16th September 2015 - Loxton:
We arrived back home on 13th September, spring certainly is in the air also in the Karoo, the pear trees of the village are all in full blossom. We had an interesting drive through Natal and Eastern Cape down to Grahamstown, stopping over a couple of days in Pietermaritzburg and on Thornkloof outside Grahamstown. En route to Loxton west of Murraysburg we encountered an amazing spring flower display along the road verges and in the field.
A map as summary of our travels over the last three months: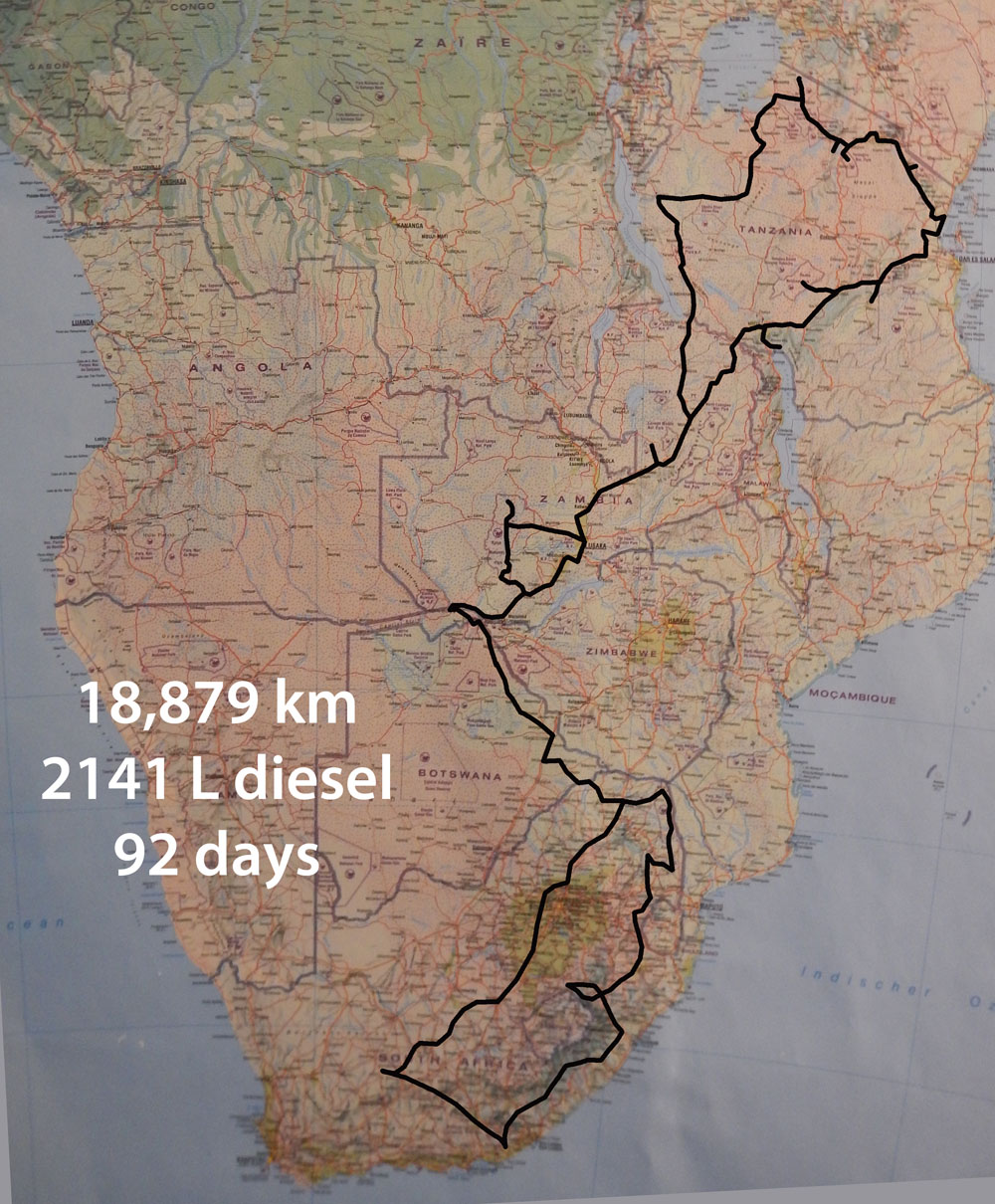 5th September 2015 - Piet Retief
From Lusaka we headed to Kafue National Park, a new one for us. We first explored the north, staying at Kafwala Rapids - Busanga Trails campsite for 2 nights, pleasant quiet camp. One whole day was needed for the drive up to the Busanga Plains, although very hazy from all the smoke around, we did have a good view of Red Lechwe there and a nice herd of Roan. The tracks were in pretty good condition, and there was very low tourist density, bliss!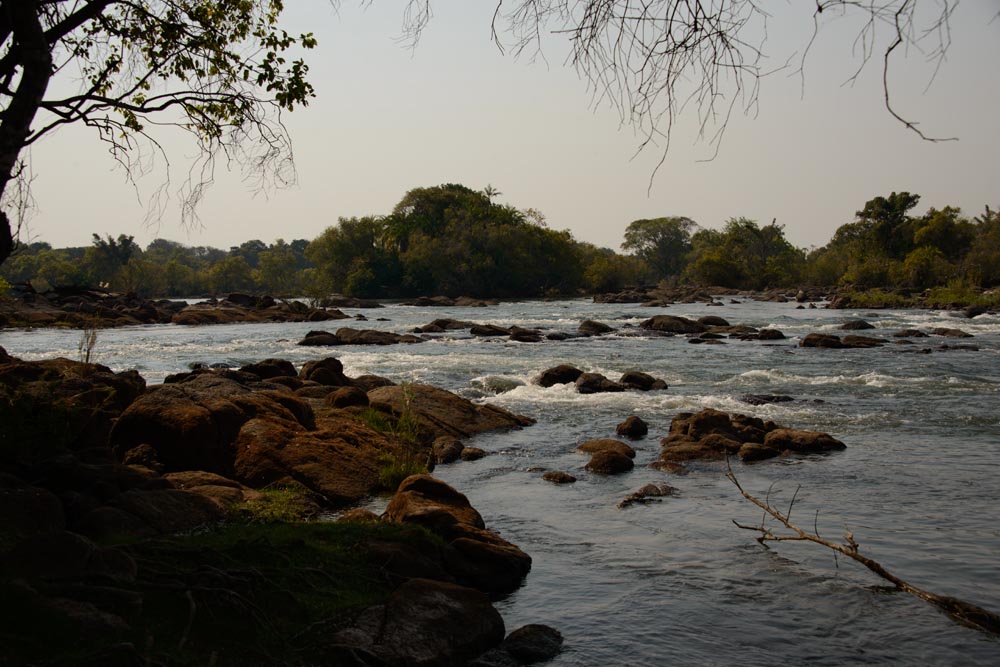 Kafwala Rapids
On our 3rd day in Kafue we headed south along the Spinal road, through beautiful miombo woodland, not many animals around, but also barely any cars, the road is quite new and in good condition, so a very pleasant drive. On the southern edge of Lake Itezhi-Tezhi a leopard crossed the road in front of us, at 1pm! Near Ngoma Headquarters a large elephant herd came out of the teak forest heading towards the lake for a drink. All elephant we encountered in Kafue are very edgy, they don't like cars and charge without much provocation! The tracks south of Ngoma deteriorated, quite sandy at times. We spent the night in Nanzhila Safari Camp, what a pleasant place! Every guest gets the personal attention of the camp owners... and the pork crackling was excellent.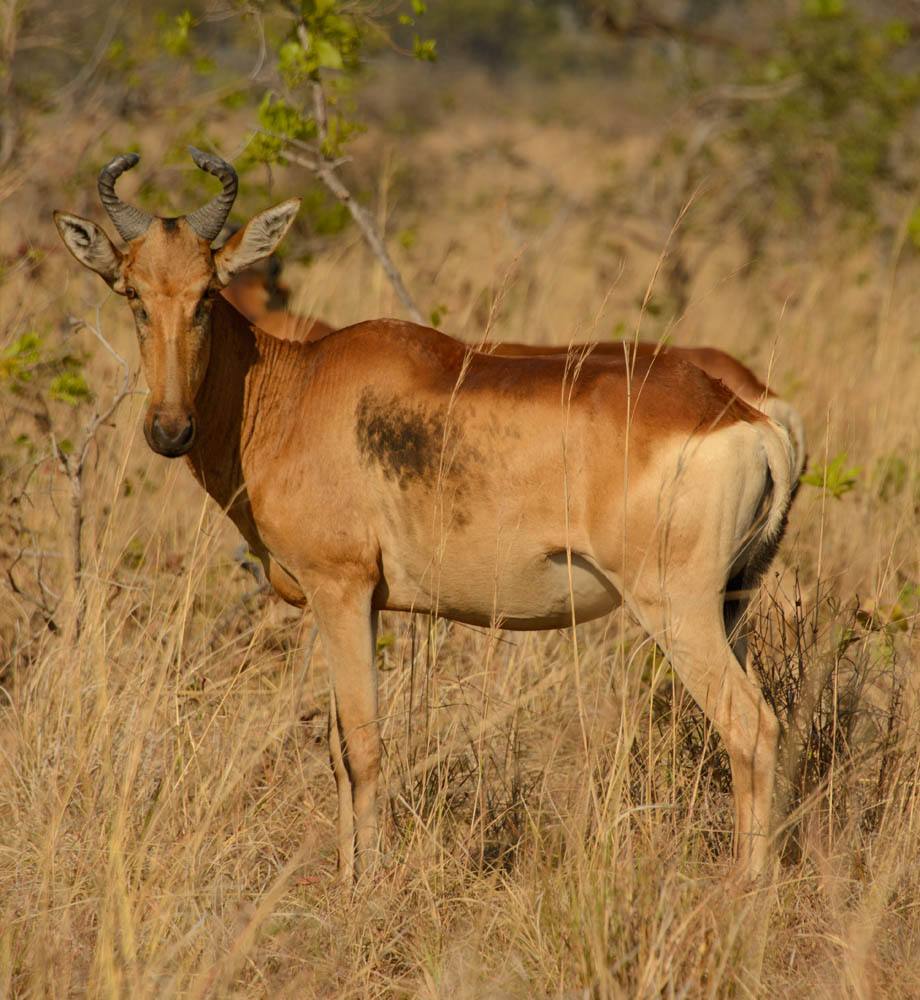 Lichtenstein's Hartebeest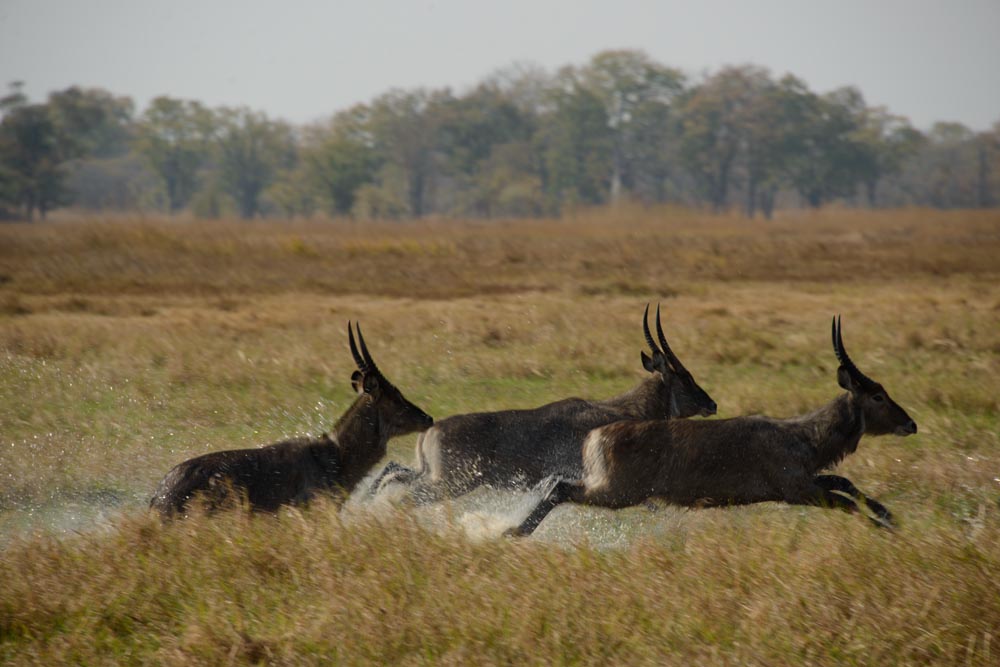 Defassa Waterbuck
The next morning the cordon 'road' and the southern boundary road took us to Dundumwezi Gate in the south-eastern corner of Kafue Park. The tracks could certainly do with some maintenance work! That night we camped at Nkwazi Lodge along the Zambezi, pleasant and quiet, with hippos cropping the lawn at night.
In contrast to our way north - coming south we took both border crossings in one day, Zambia to Namibia at Katima Mulilo and Namibia to Botswana. All went quite well, except for the fact that we had missed our Ebola check at first!!! Chris talked to an engineer in Kasane: the bridge across the Zambezi at Kazungula is supposed to be finished by the end of this year?
Wotan travelled well this day, the roads were quiet, at 5pm we pulled into Elephant Sands Lodge (north of Nata), and what a spectacle awaited us: elephants gathered around a water hole, right next to the tourists enjoying food and drinks. But elephants drink a lot of water, and the supply in the trough is not filling up fast enough, this creates tension amongst the waiting thirsty big animals, some conflict was obvious. Needless to say: the swimming pool at the lodge was not kept full.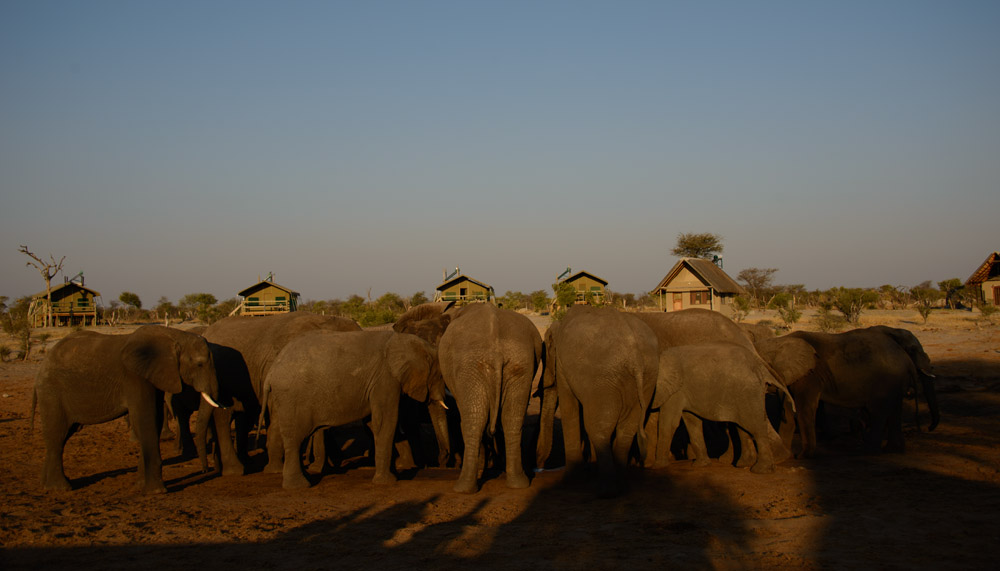 Our African travels are drawing to a close, one more night camping in Botswana on the northern side of the Limpopo River, but alas here already the camp is fenced.... but the temperature is right and we hear the Scops Owl, a few small crocodiles bask on the sandbank, and we are aware of the elephants drifting through the Mopani bush.
We had a two day stop in Louis Trichardt, did the 30,000 km service, laundry, charged all appliances, sorted photos... One very pleasant day and night we spent eating, drinking and talking with our friends Ian and Dale on Lajuma in the Soutpansberg.
It is still too early to return to Loxton, winter has not quite released its hold. So we planned a visit to the Kruger Park, but were taken by surprise at the number of people staying there! We struggled to find campsites for the 12 days we planned to spend in Kruger! We succeeded, but the campsites feel more like squatter camps, tightly packed, everybody jockeying for the best position at 9 am! The ablution blocks struggle to cope.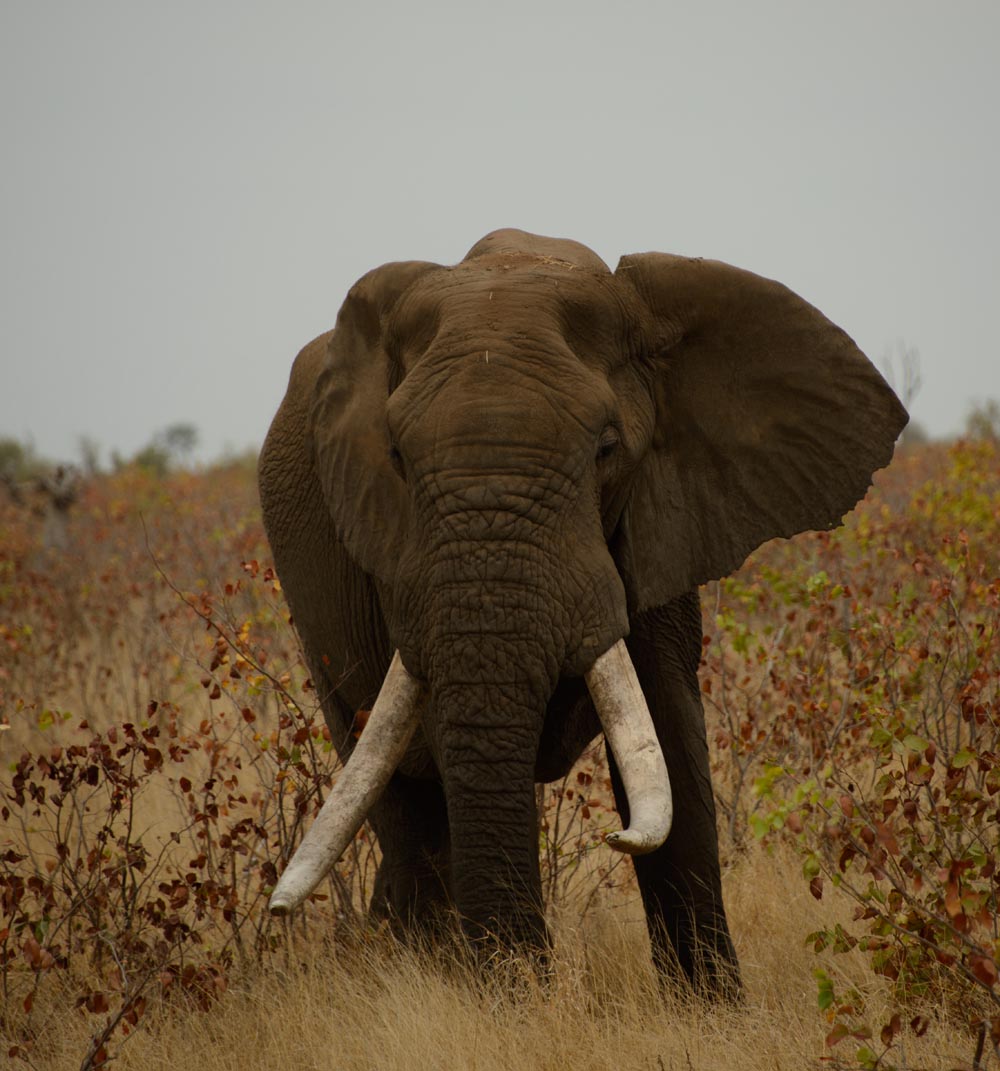 You don't see tuskers like this in East Africa anymore!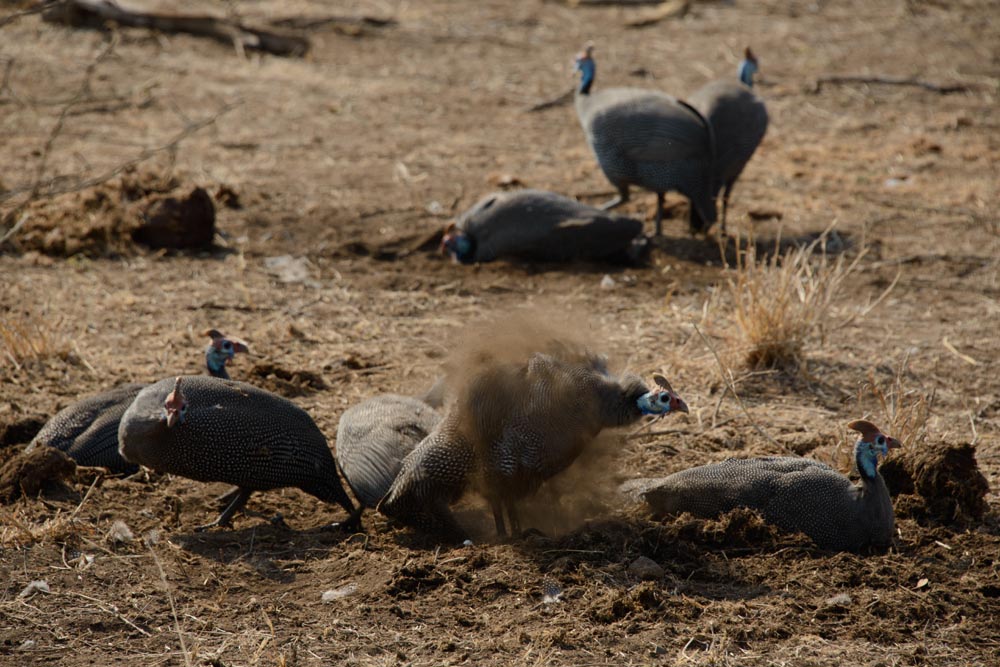 Dry elephant dung and dust make for healthy feathers.
But - photography was good, we saw a lot, we also saw a lot of changes in the 5 years we were there last: there are many more elephants present, and they certainly leave a mark on the vegetation, probably to the detriment of some of the antelope species. We also saw more large herds of buffalo than ever before. On the carnivore side we had the pleasure of watching 2 cheetahs near a drying up waterhole and a female leopard with her large cub resting in a tree. Overall very pleasant and satisfactory. The last rainy season in the park was bad, signs are obvious everywhere. We had a very warm week, unusual 35 degrees every day at the beginning of spring, until 2 days ago suddenly the weather changed, cloudy, cool, so we packed up yesterday. A short visit to Blyde Canyon yesterday, and today we overnight in Piet Retief, the temperatures stay low, the sun does not show and there is drizzle on and off. Not really what we enjoy..... The highlight of today was seeing the feral horses around Kaapsehoop!
13. August 2015 - Lusaka, Zambia:
We spent one day and one night in Arusha NP, lots of clouds and mist, with drizzle in the morning, but good chorus and display of the Abyssinian Black and White Colobus (Guereza) in the trees around the campsite.
Glad to drop south to Tarangire NP, sun and warmer temperatures, plenty of relaxed elephants in this park! Also the tourist circus hotting up.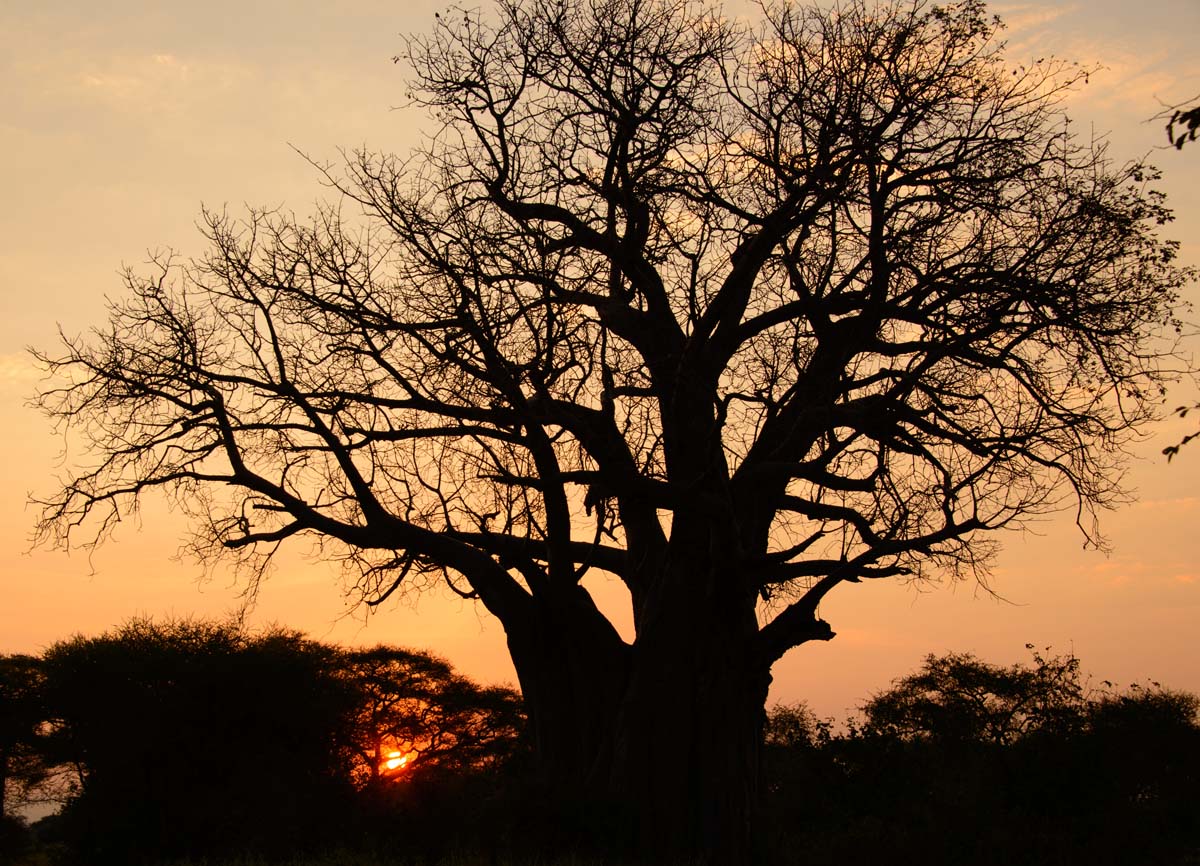 To store, sort and work on our images we had 2 nights at Nsya Lodge just outside Lake Manyara NP. Very pleasant, good food (full board), but early morning praying of a christian community in competition to the call to prayer of Islam!
Lake Manyara National Park for 1 day and 1 night, spectacular views of wood storks, pelicans, and an elephant cow in camp almost all night.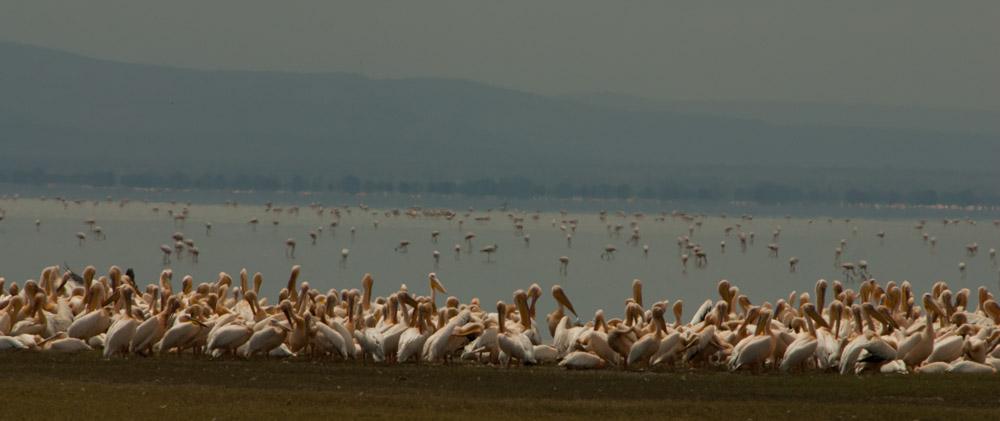 Then the approach to Ngorongoro and Serengeti: bad dirt road through both, 1h queueing at each entrance gate to get a permit, overpriced, overrun... not only by tourists but also by Maasai and their cattle in the Ngorongoro Conservation Area (conservation?). We only transited to get straight into Serengeti to Seronera camp. And although in the dry season, we had rain on three consecutive days! Moved north to Lobo camp, much quieter, and well worth while as we unexpectedly still caught some of the wildebeest migration across the Mara River and its tributaries. We expected the animals long gone, but there they were en masse trekking.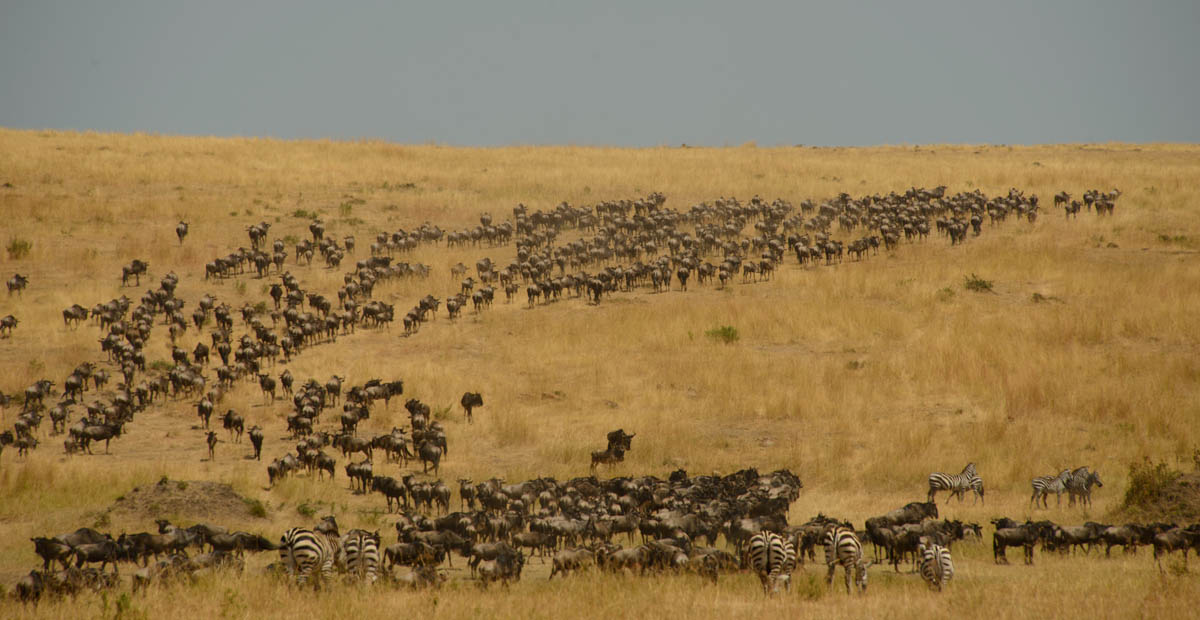 We left Serengeti through the western corridor, skirted along Lake Victoria and found a pleasant simple Forest Inn in Nzega, finally rid of the masses of safari vehicles.
Next goal: Katavi National Park, long stretch on mixed roads (some new and better than expected, others worse) via Tabora, Urambo, Kalina, Uvinza and south to Mpanda. Sunset finds us on the edge of Katavi NP, too late to enter through the gate, but at River Side Camp we found a clean room, overlooking a school of hippos in the Katuma River.
We spent 3 nights at Ikuu special campsite in Katavi NP, overlooking the river bed, the coming and going of elephant, impala, giraffe, and an amazing 80 plus hippos packed in a fresh water spring / mud hole.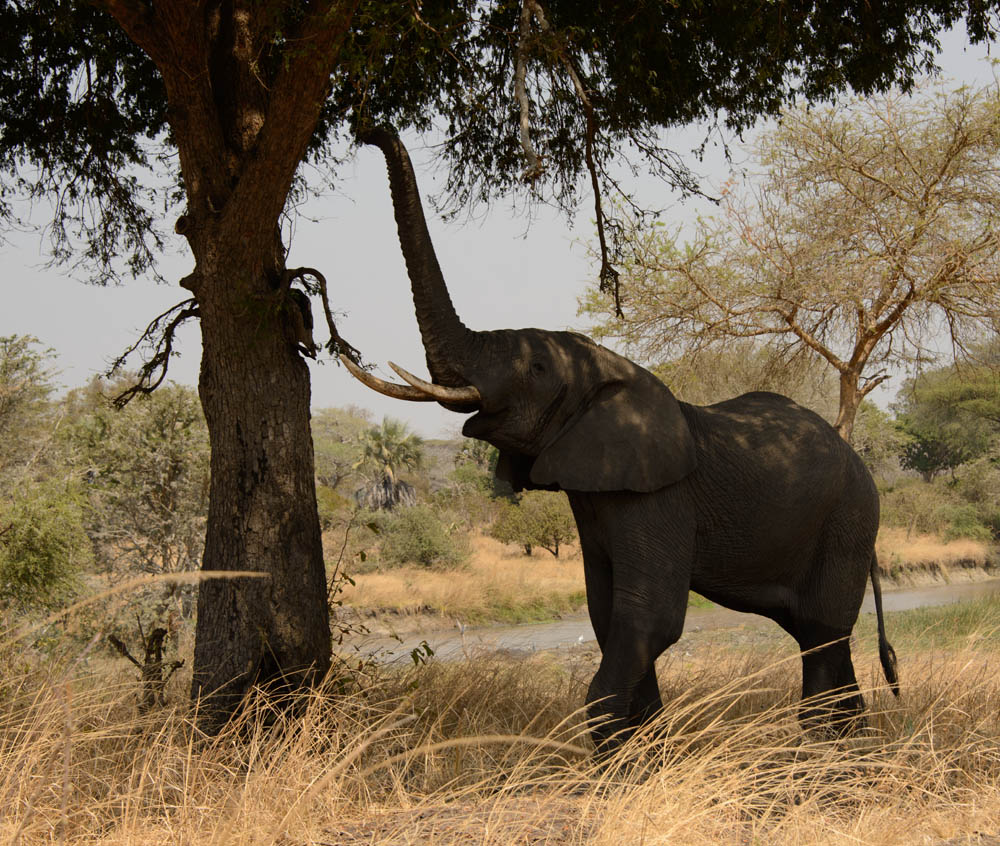 Lots of interesting interactions at night including a hyaena kill close to camp, but no remnants left to identify the victim, probably impala. Vociferous and querulous hippo bulls dominated our third night.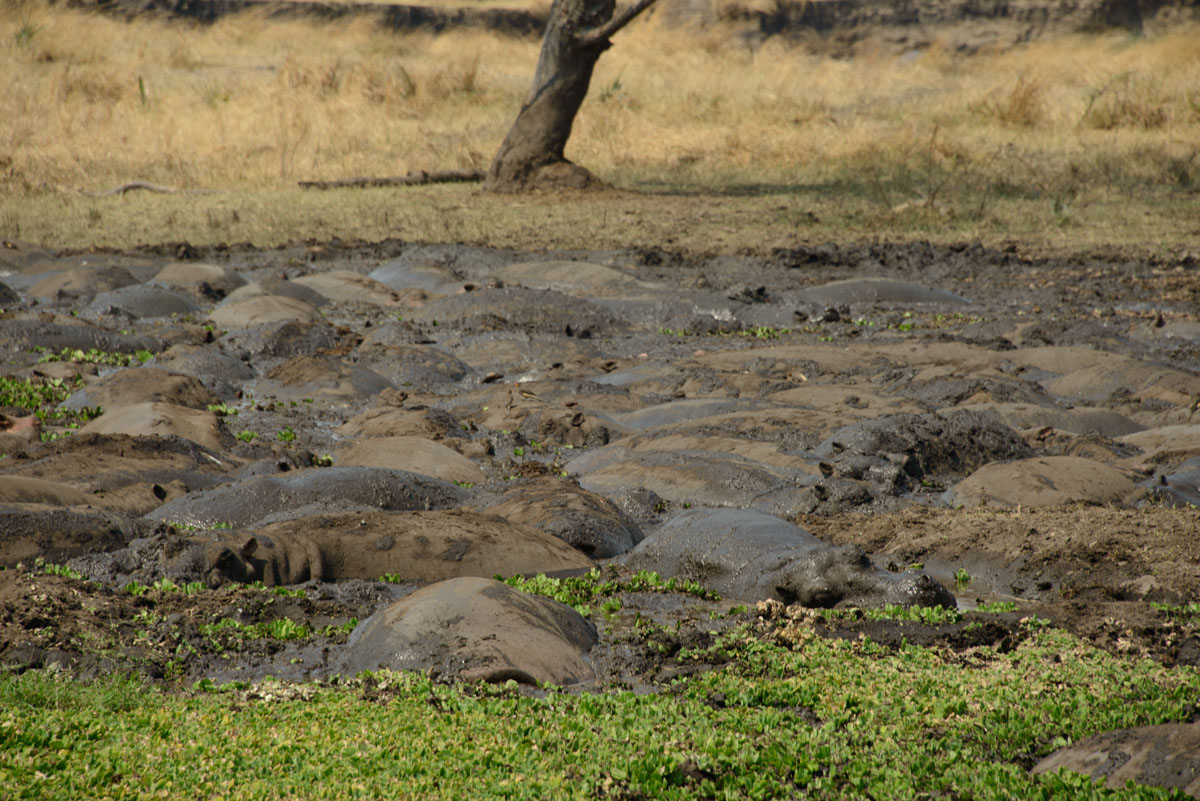 We did not want to repeat the experience at Tunduma border post so chose to exit Tanzania in the west, south of Sumbawanga, one of two cars only, but the Zambian border post was not well equipped to issue visas, finally succeeded with Immigration in Mbala. The drive south from Mbala, via Mpika and Mkushi to Lusaka was uneventful. Tomorrow we head out west to Kafue NP, looking forward to that!
23. July 2015 - Mt. Meru Game Lodge near Arusha:
From Iringa we moved to the Udzungwa Mountains National Park where the Udzungwa Red Colobus obliged by coming into our camp but the Sanje Mangabey proved a little more difficult. It was near vertical slopes with dense forest but eventually we encountered the habituated group and had an amazing hour with them, a very special experience. The beers afterwards were definately necessary.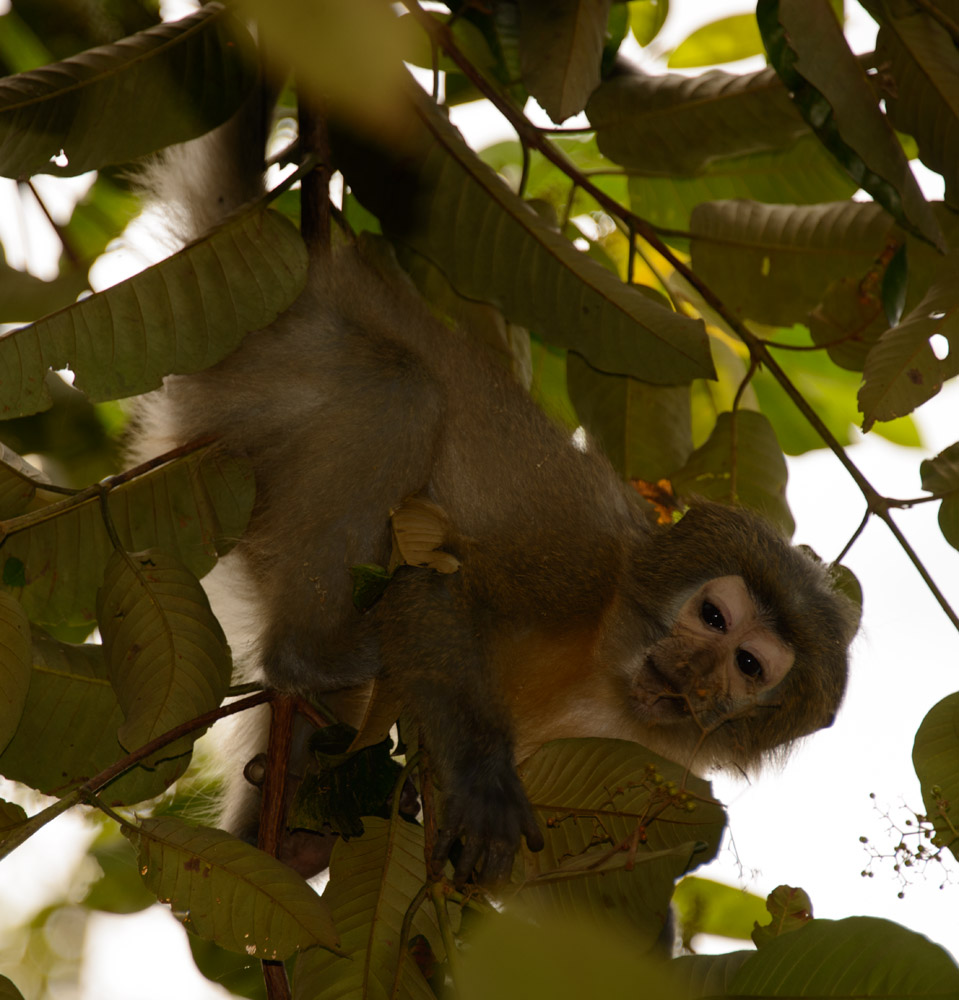 From here we moved to Mikume National Park, spent 2 nights and had some good game and bird experiences, but unfortunately the traffic noise from the main highway and the impact of poaching was obvious.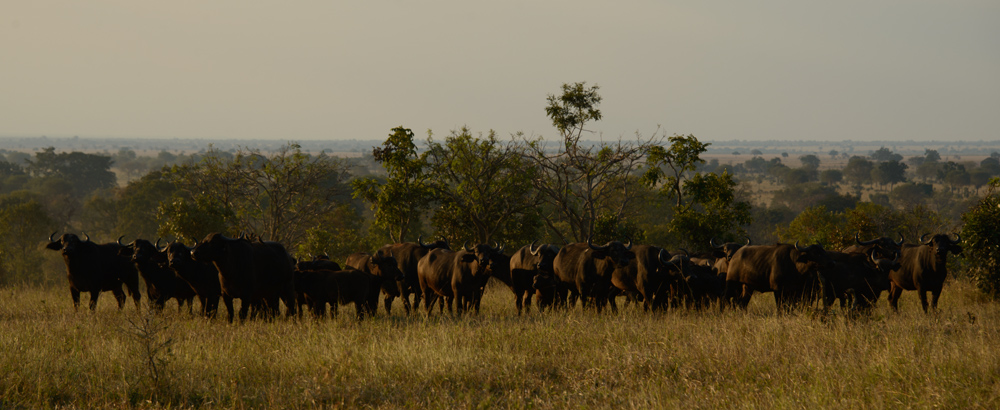 Next destination was Saadani National Park on the coast north of Bagamoyo, much quieter in a special campsite but virtually no game was evident. Next overnighted in a beach banda south of Pangani, at Ushoto Beach, very pleasant, very warm and humid, and excellent prawns! Power off, but still got our stuff charged, this applies to about everywhere in Tanzania (but unplanned load-shedding!).
We tried to avoid the ferry over the Pangani River and had a really good drive on a cattle track for 60 kms through beautiful woodland to link up with the main tar road north. We climbed into the Usambara Massif on a ex-colonial tar road, via Lushoto to Mtae, we do not recommend this route! We climbed higher and higher, eventually thinking we would just drop off the edge.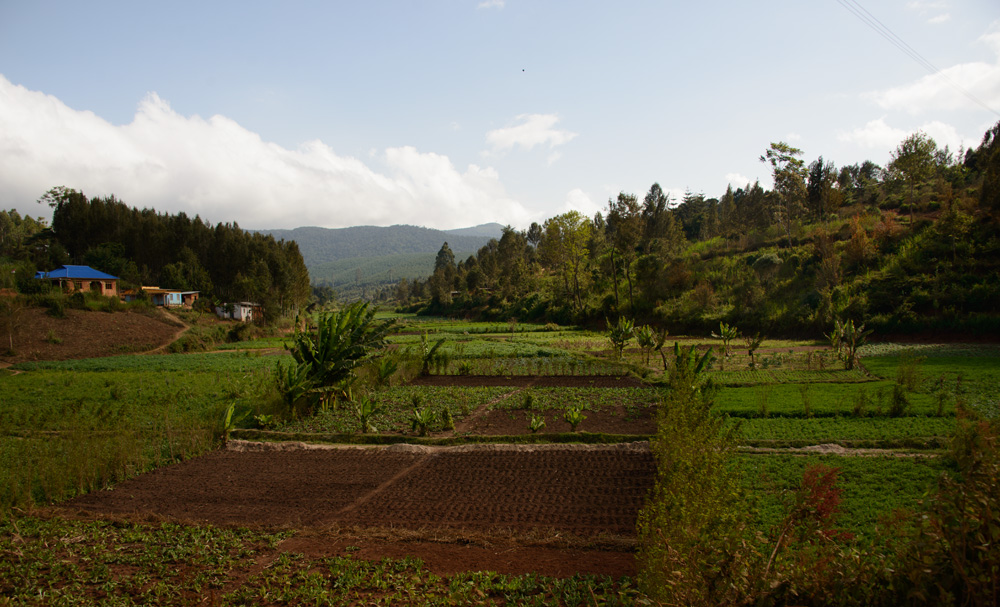 Back to Lushoto in the dark and found a fantastic colonial style run-down hotel "The Lawns", Tony the manager regaled us with the history of one of the oldest hotels in Tanzania. It was so good we spent 2 nights to catch up.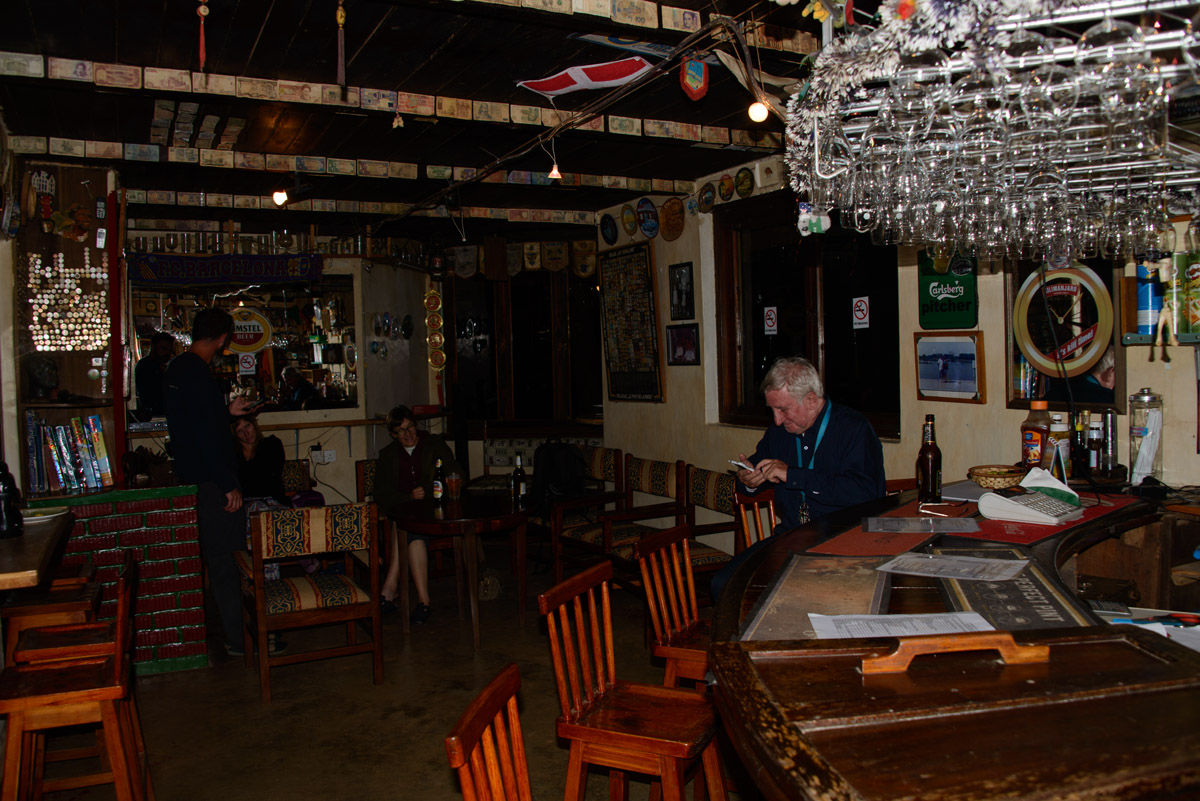 Following the main road north towards Moshi, we spent 2 nights in Mkomazi National Park, a very new National Park, evident by the shyness of the game. We not only had the special campsite to ourselves but the entire park, very few tourists visit. The highlight on our way out this morning was a quite relaxed Serval marching and smelling along the track.
Today we are overnighting at the foot of Mount Meru near Arusha.
12. July 2015 - Iringa, Tanzania:
From Lusaka we headed north to that conservation gem Kasanka National Park, where we spent six months in the near distant past, working on the great influx of Straw-coloured Fruit Bats and undertaking a general vertebrate survey. This was just a two night stopover and a journey down memory lane. It was the wrong time of year for the millions of bats but the Fibwe Forest was recovering from their last visit.
It was then a push over the border into Tanzania and two nights on the northern-most shore of Lake Nyasa. The drive through the Southern Highlands and the lower shore area was very densely populated with numerous villages, rice paddies, tea estates and subsistance plots. Little of the natural forest and woodland remains, fine meshed nets ensure that the fish population is greatly depleted. Kyle went, with a guide, in search of Angolan Black and White Colobus into the Livingstone Forest, but all he encountered were loggers and streams of men and children carrying out sawn hardwood planks on their heads.
It was then to Iringa and into the Ruaha National Park, a welcome "true bush" interlude of five days. This is the Africa of old with forests of Baobab trees, dense miombo woodland and abundant game and birdlife. Sadly, although we saw many Elephant in the vicinity of the Ruaha River, ivory poaching, especially in the north, is rife and many have died in the last two years to feed the trade in ornaments and the like. Another worry is that for several months during the dry season the principal artery of the Ruaha River dries up entirely, this once had perennial flow. Offtake for agriculture seems to be more important than the well being of one of Africa's finest conservation areas.
Tomorrow we head to the Udzungwa National Park and its associated forests in search of the Sanje Mangabey and the Udzungwa Red Colobus.
Impressions from Ruaha National Park: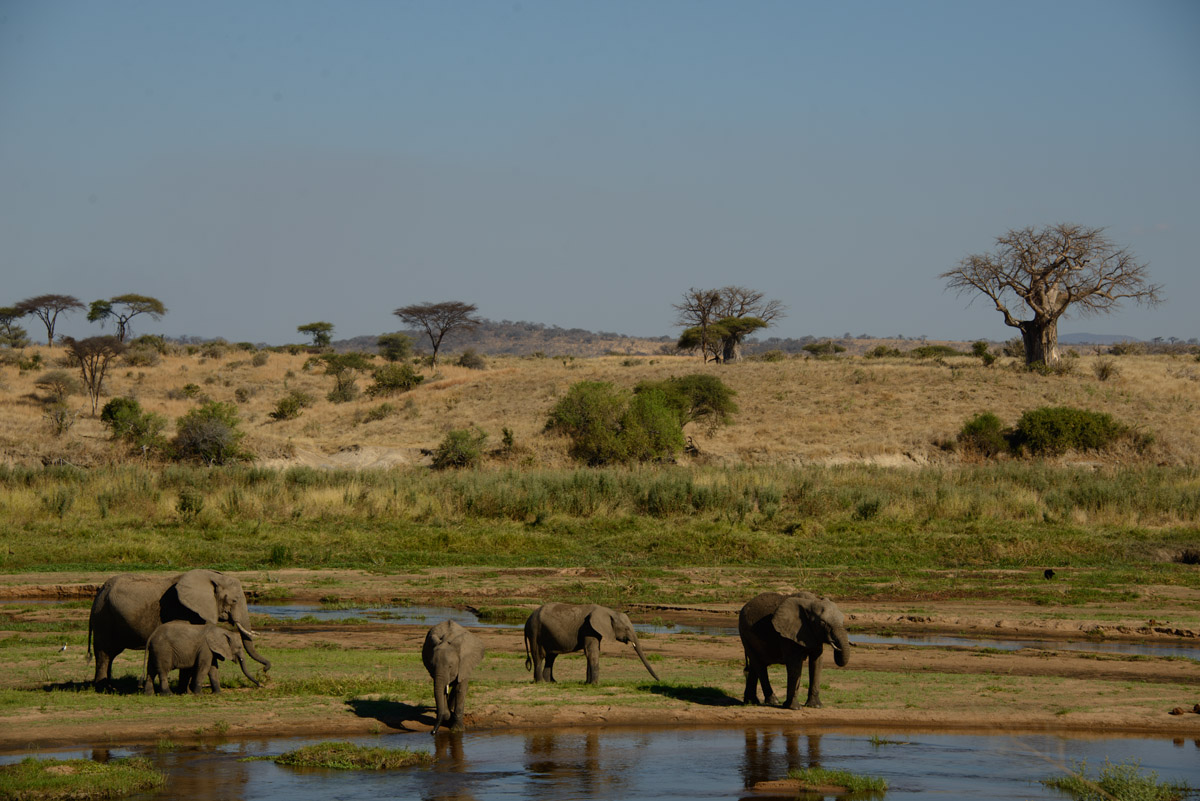 Family group in Great Ruaha riverbed.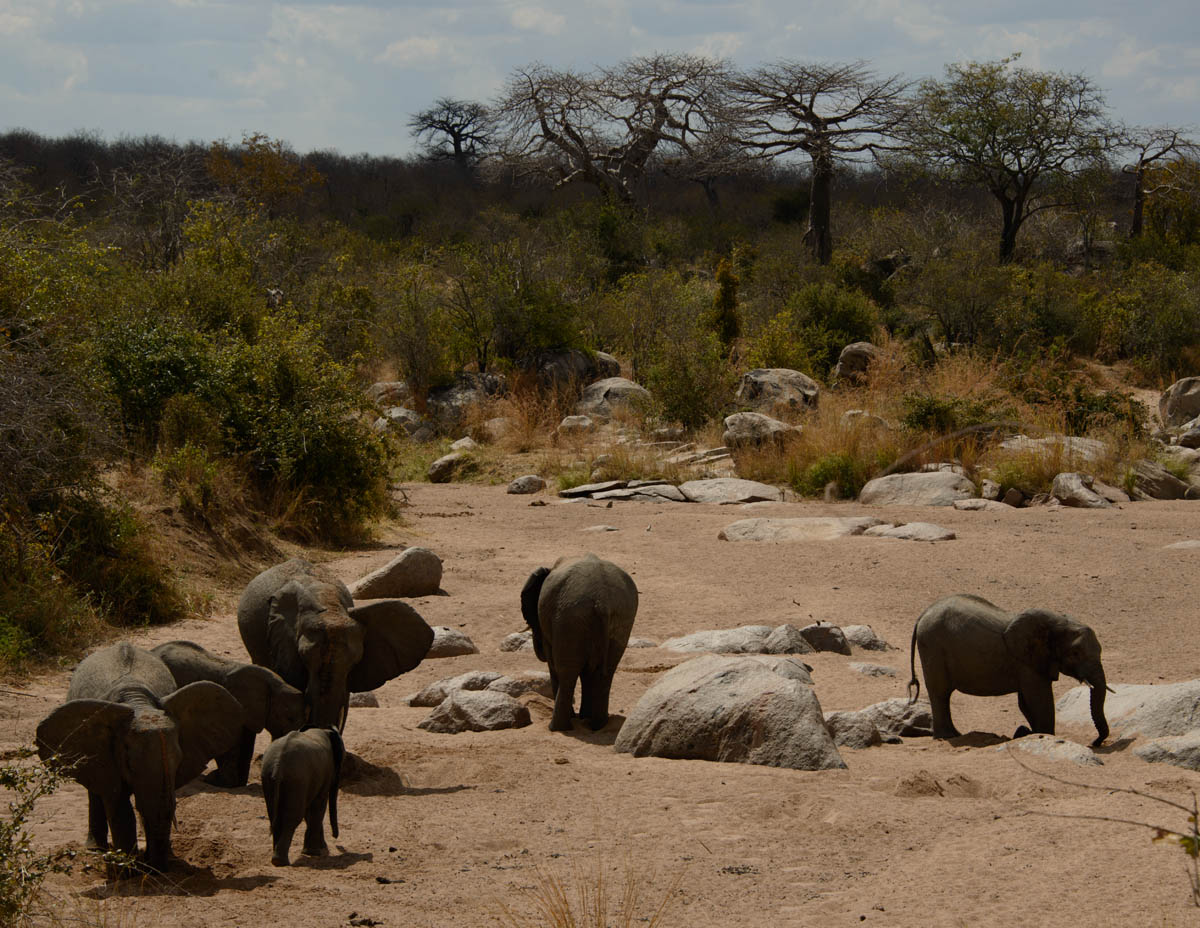 Elephants dig holes into sand rivers to access water.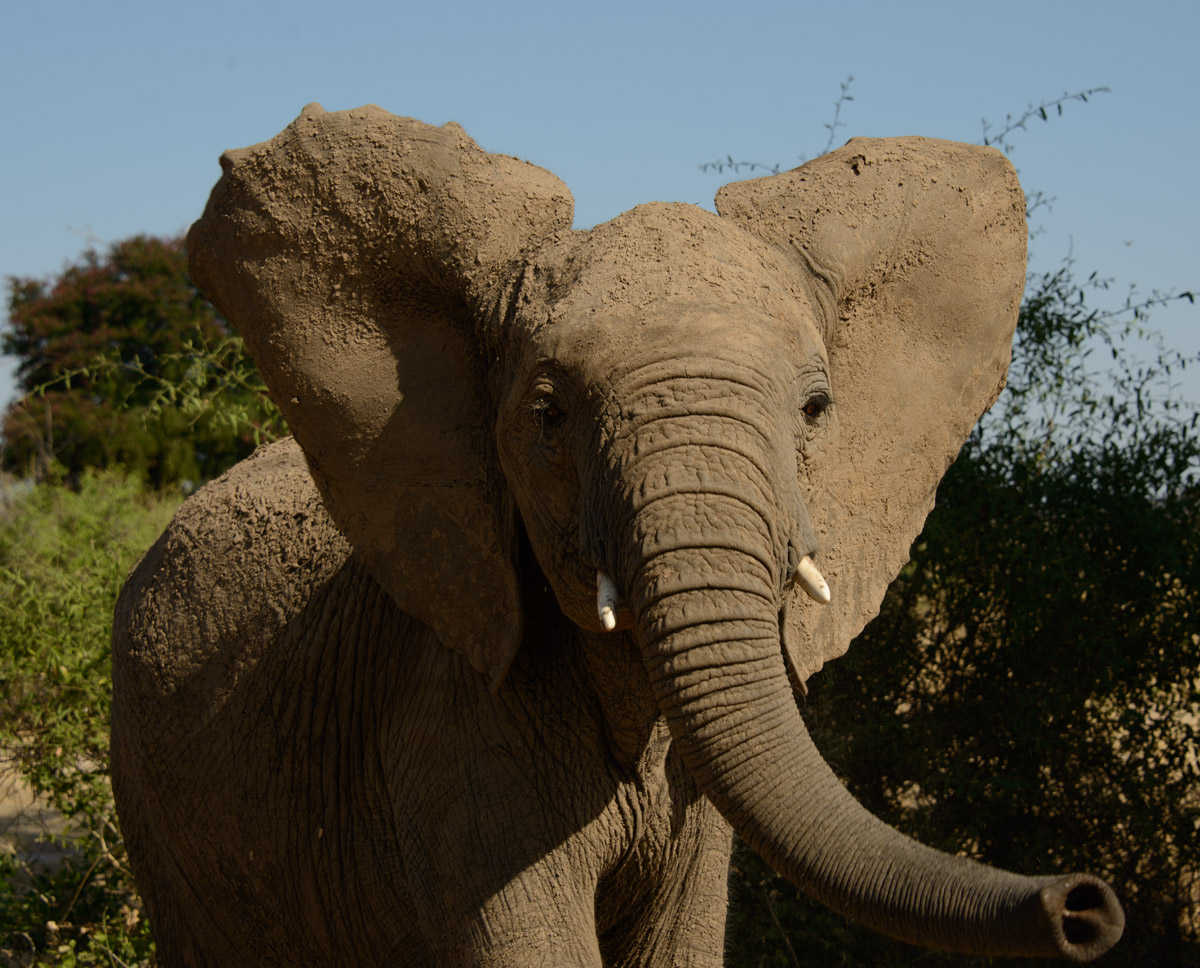 A stroppy youngster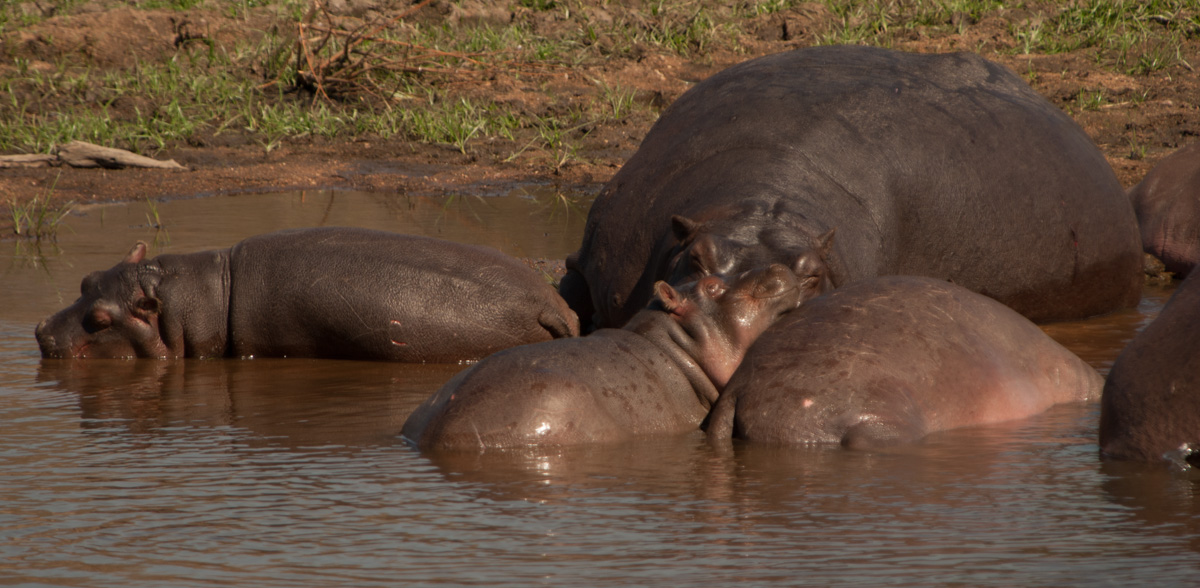 Hippo family group at rest.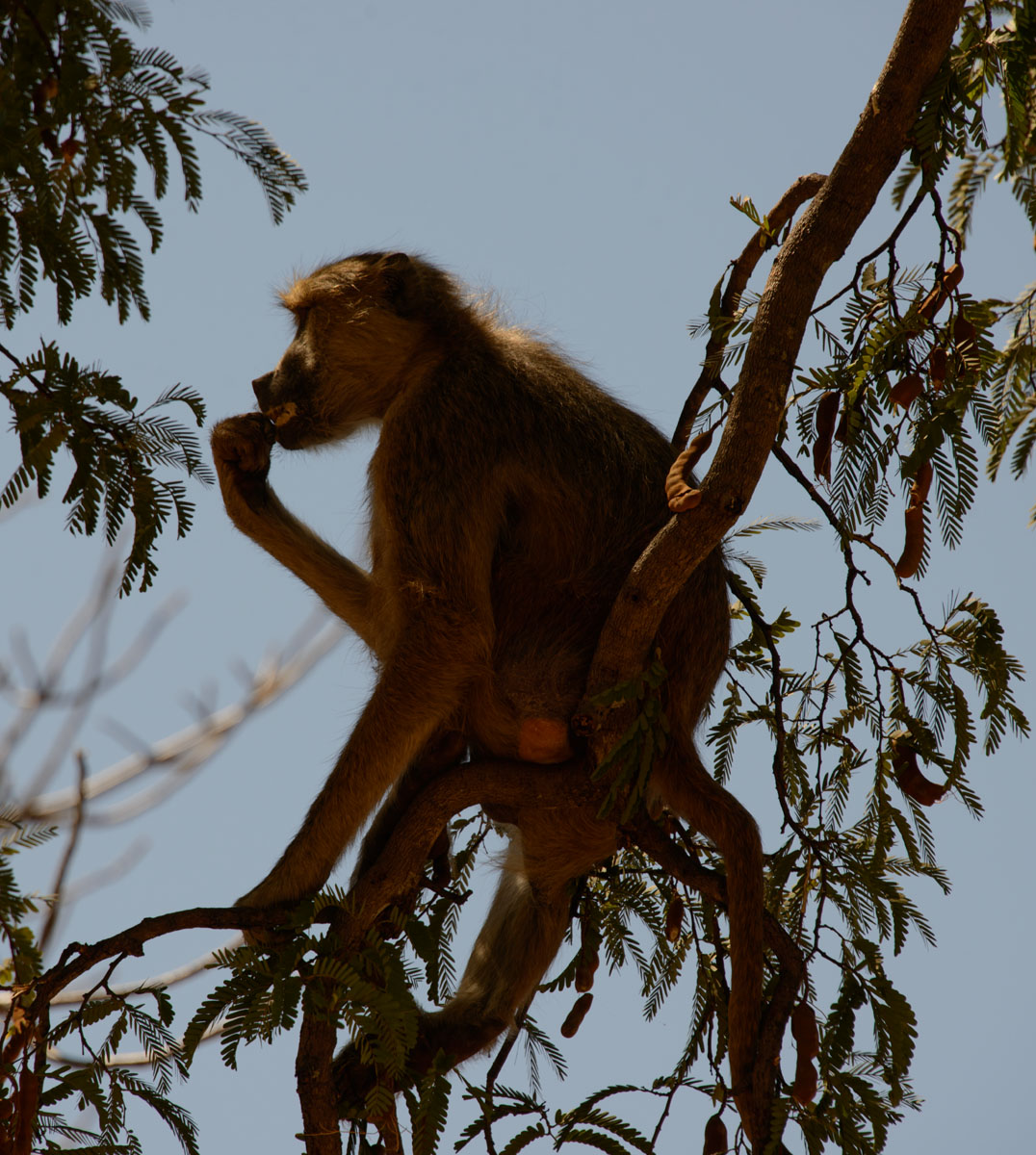 Yellow baboon feeding on pods.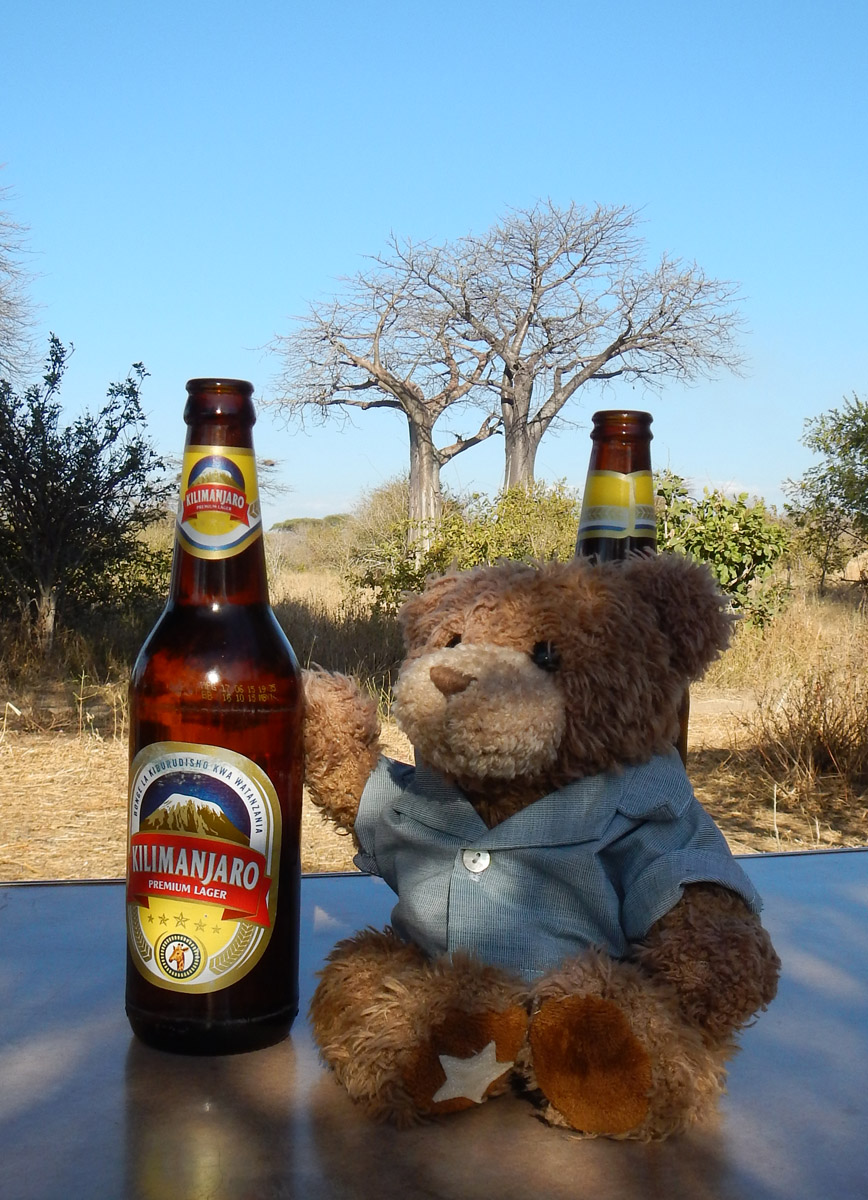 And Bruno is enjoying himself too! Kwaherini!
26th June 2015 - Lusaka:
Already well into our second week on the road-largely uneventful except for those irritating border crossings! Of course in the miombo country it is fire season and the smoke haze has a permanent presence. Since our last journey into Zambia the human population has increased, the destruction of the woodland accelerated! From the bridge crossing at Katima to Lusaka the numerous sale points for sacks of charcoal, individuals loaded with three sacks of charcoal peddling to the next village or town. One can only wonder for how long this can be sustained?
So far it has been driving, camping but now staying with friends on their mini-paradise outside Lusaka! The cameras have been busy recording Multimammate Mice, Red Veld Rat and Short-eared Dormouse and various plants, very obliging Crested Barbets and more.
The traffic and especially the taxis here in Lusaka make for some very interesting driving! So it is with some relief that we can "hide" on Tadg's place.
Tomorrow we start driving north again, aiming for our old stamping grounds in Kasanka National Park but just for one or two nights, then our Tanzanian adventure begins after an absence of 20 years.
More later!
Morning mist over Zambezi River near Victoria Falls: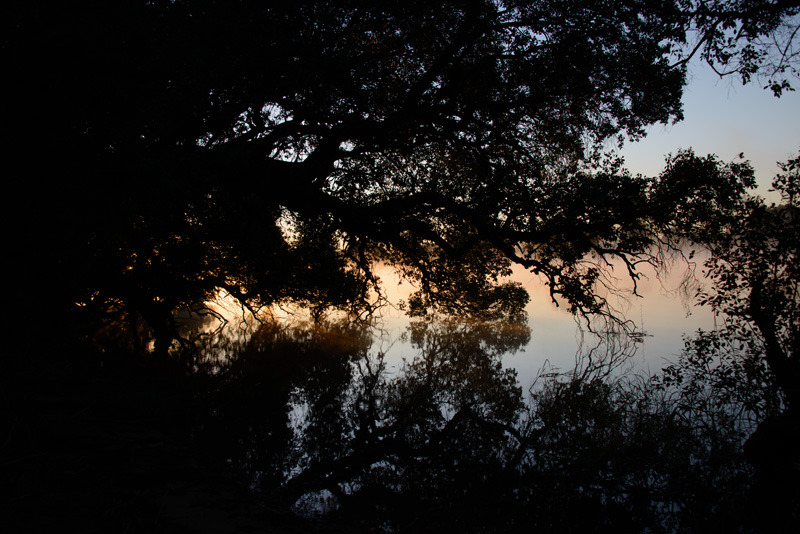 The day before...... at sunset: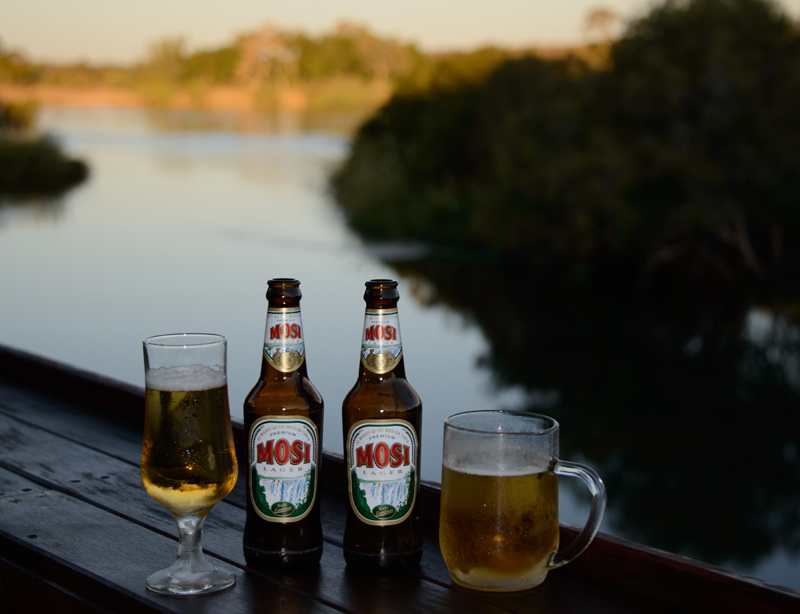 Nkwazi Lodge on the Zambezi River near Livingstone - one of the best places to photograph African Finfoot: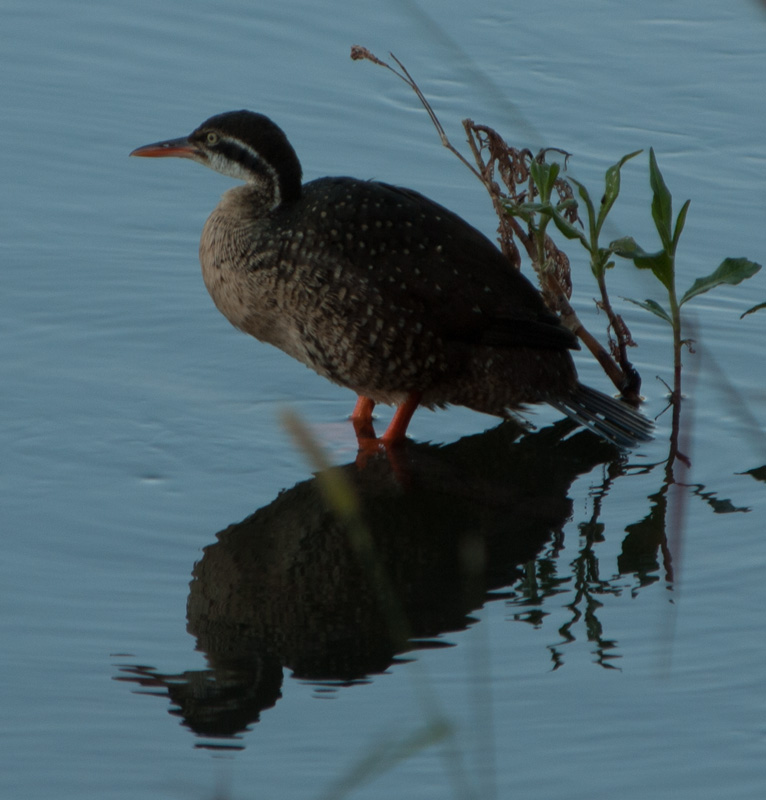 Mosi-oa-Tunya - enjoyed by all: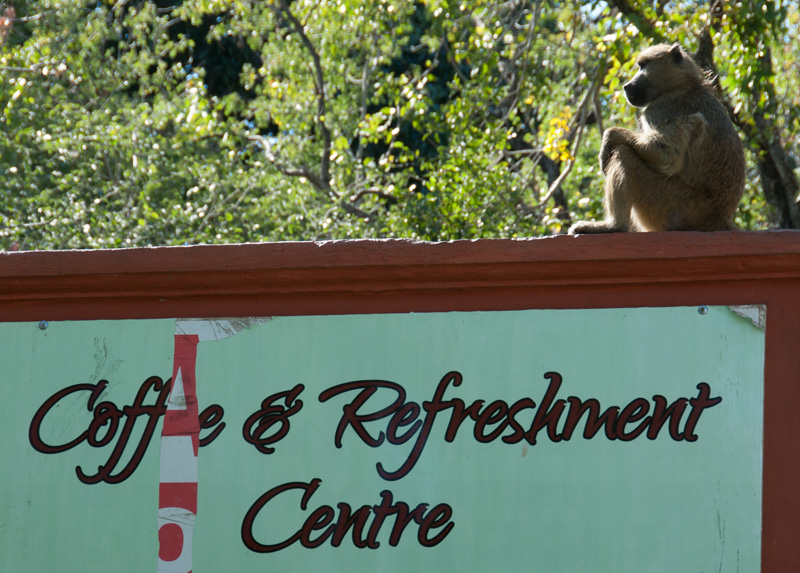 Crested Barbet at Woodlands Camp outside Francistown: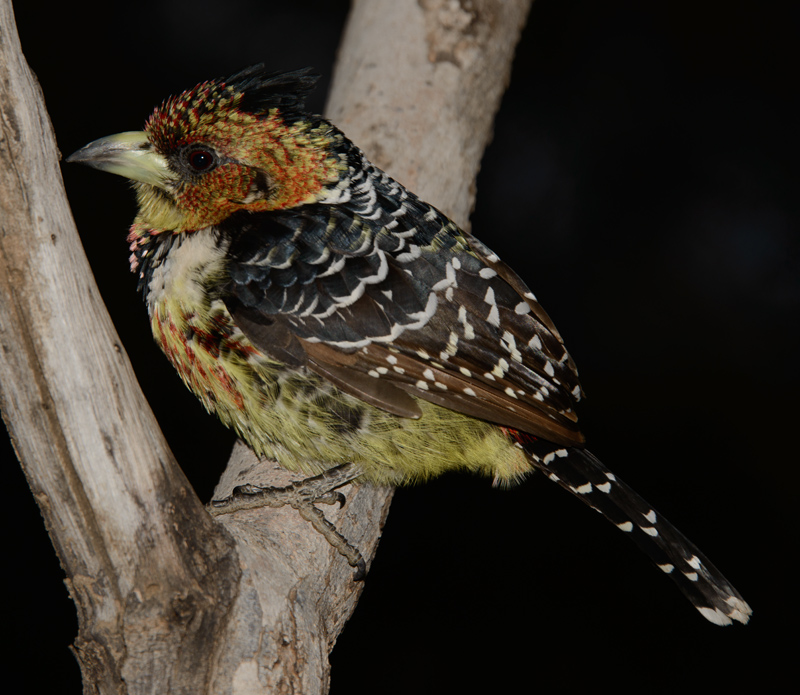 13th June 2015:
All packed and ready to head north tomorrow.