Click on 'Where are we now' to follow us. Or click on the links above to see an illustrated travelogue of our 3 months' trip from Loxton to Tanzania and back in 2015, or to read about our 10 months' trip around North America from June 2013 to March 2014.
Or read travelogues posted below from other trips.
Bushmanland and the Namib Desert - February & March 2015
We spent much of February and early March 2015 in Bushmanland, the Orange River Broken Veld, Kgalagadi and the Namib-Naukluft Park. In part it was a photographic journey but also partly an induction of Kyle into the ways of Stuart On Nature.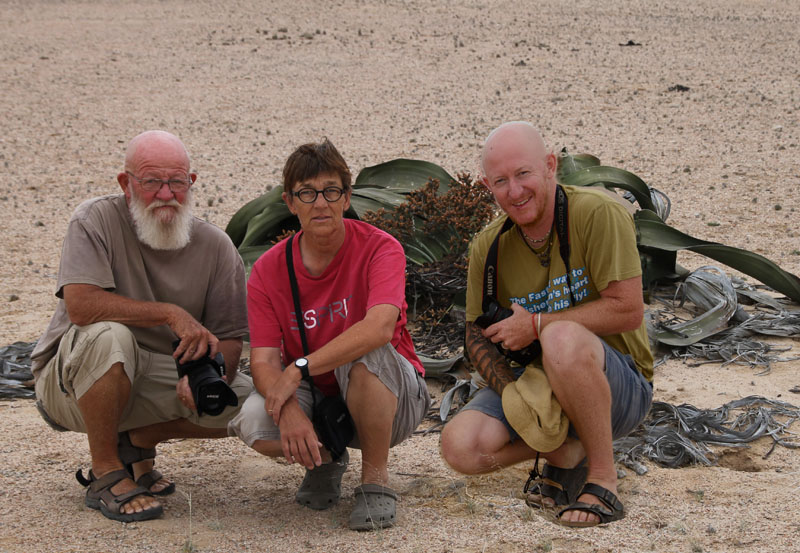 We started on the farm of Izaak Nel, Jaagersplaas, in Bushmanland, then headed to Augrabies to seek out Klipspringer and the Dassie Rat (Noki), we were lucky with the former but the latter eluded us. A disturbing aspect in this park was how idiotic tourists have smashed up all but two of the geological features, known as "pop ups", on Moon Rock. These "pop ups" are only known from this locality in South Africa and are therefore unique.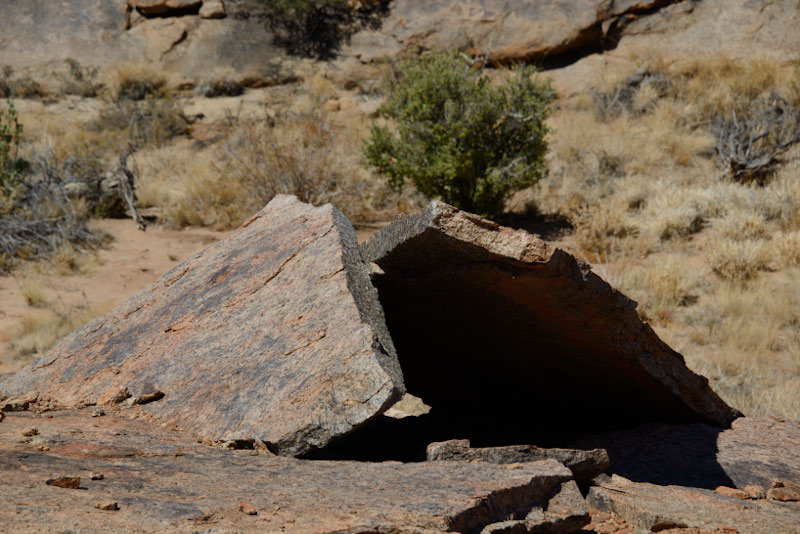 On the complaint note - visitors are also feeding the Broadley's Flat Lizards (Platysaurus broadleyi) at the viewing platforms near the falls. These are omnivorous lizards, taking both animal and plant food, but they do not need supplements from human hands. An aspect that should be kept in hand by park staff? Vineyards are expanding eastwards on the park boundary drawing ever more water out of the Orange (Gariep) River. Then of course there is the threat of a hydro-electric plant just above the Augrabies Falls.
Then it was to Kgalagadi Transfrontier Park, mainly for the smaller species that occupy Mata Mata camp. We had hoped for Nossob as well but fully booked. Even booking for camping is required during what was once considered the low season. Roads are being upgraded throughout the park which until recently were acknowledged as some of the worst in South African national parks. We were lucky with Suricates, Yellow Mongoose and Southern African Ground Squirrels at Mata Mata.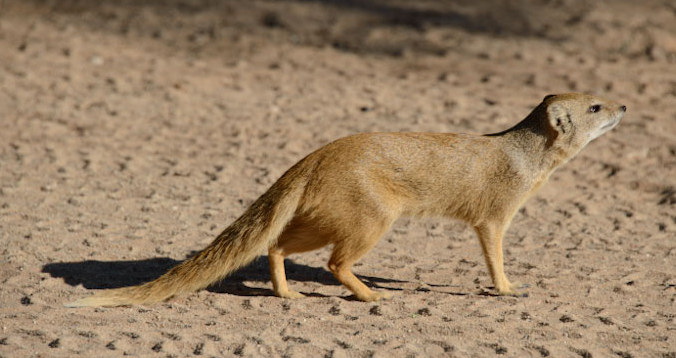 After the smart office and immigration officer at Twee Rivieren, those crossing from South Africa to Namibia at Mata Mata were dirty and off-hand, respectively. Drought has spread its hand over much of Namibia but the occasional patch was green from isolated rain showers.
The Namib-Naukluft Park is well known to us as Chris lived for 3 years there in the 1970's and we have visited it several times since. Our favourite camps, Groot Tinkas and Blutkoppie, in the east now hum to the sound of heavy machinery on new uranium mines within the park. The Swakop River campsite, once relatively pristine is now difficult to access as pipelines are being installed to serve the mines, one of which cuts through the plain famous for its concentration of Welwitschia plants. Thankfully, the camp at Mirabib (Anachanchirab), within Barn Owl flight distance of the Kuiseb River, was still undisturbed.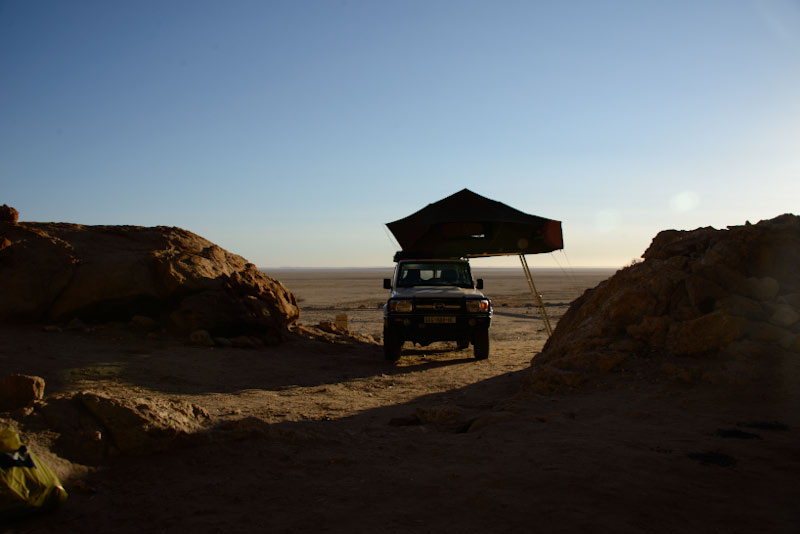 In the distance the red dune sea, highlighted at sunrise and sunset. In the park we were rewarded with incredible close encounters with Jameson's Red Rock Rabbits.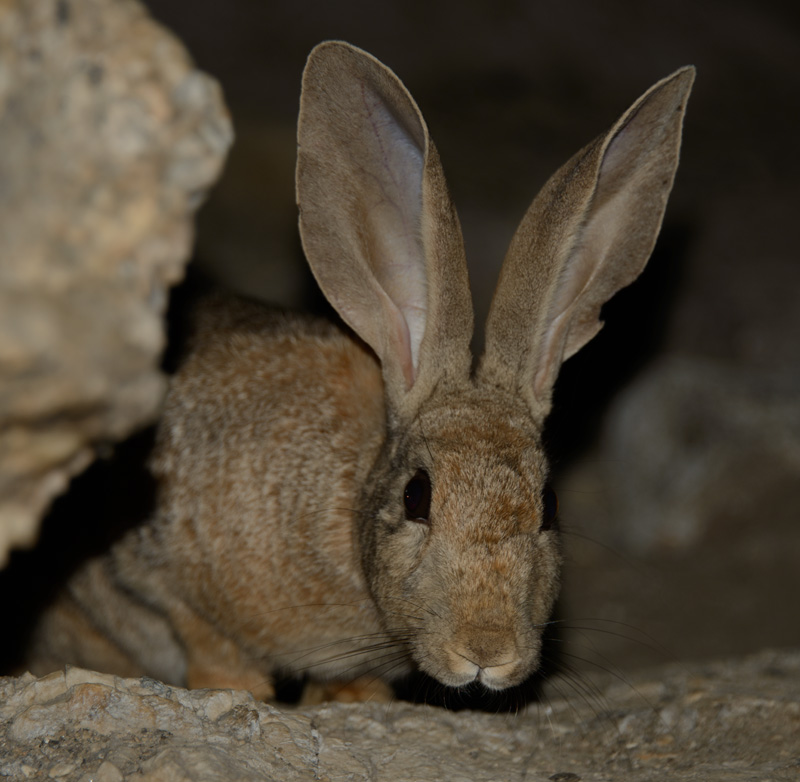 There was also an obvious increase in the numbers of Hartmann's Zebra- never before have we seen such numbers of this striped horse.
For the final leg we headed to the farm of Joe Gaugler, Neu-Dabis, close to the diminutive settlement of Helmeringhausen. Despite severe drought there was much action for the cameras, including rock-dwelling Black-tailed Tree Rats.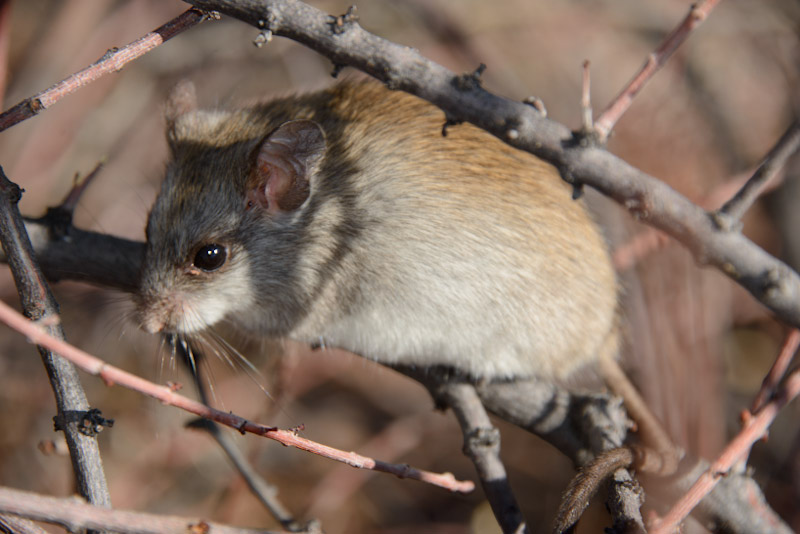 This rodent is closely tied to Camel Thorn trees and other acacias (Vachellia & Senegalia) but here they live in rock crevices, shared with Namaqua Rock Mice. Why they have taken on the role of cliff-dwellers is not known.
The Eastern Cape - June 2014
In June 2014 we took a break from the computers in Loxton and headed to Addo Elephant and Mountain Zebra national parks. It had been five years since our last visit to these parks.
Changes there have been- around 600 elephant now roam the main game area and the recently opened Colchester sector. We couldn't help wondering how long it will be before SANParks have to look at managing this burgeoning population. Judging by the number of calves and young animals in the matriarchal herds the day of decision making cannot be too far in the future. Although Addo is now South Africa's third largest national park it is unlikely that large sections of it will ever be opened to the elephants. These include the sensitive habitats encompassed in the Woody Cape coastal sand dune system and the Suurberg range dominated by Cape heathland, or fynbos.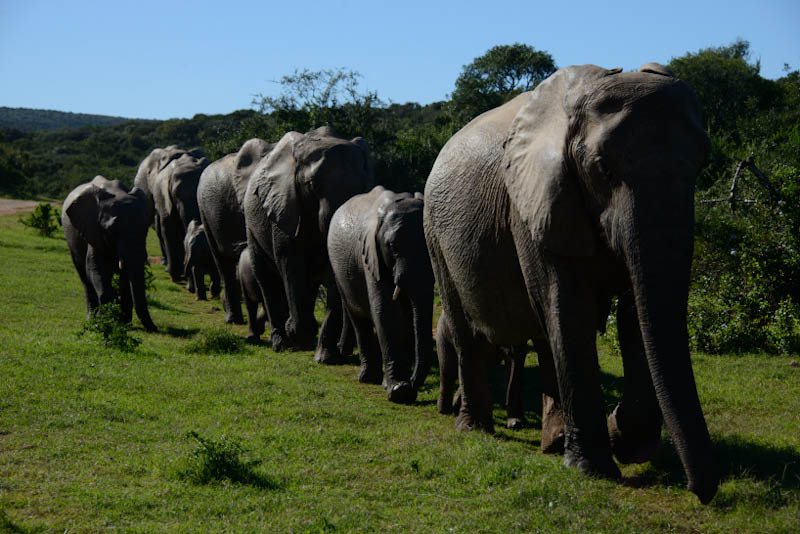 One of our highlights was the carcass of a bull elephant killed two weeks earlier by another bull lying by the road and seething with maggots, attracting a family of five Black-backed Jackal. Although there was some gnawing of skin, tendon and dried flesh the main culinary delight was obviously the flowing maggot broth. Lion had apparently spent several days making the most of this bounty, as well as Spotted Hyaena, but now it was the turn of the jackals.
The few Lion reintroduced into the park seem to be doing well and their presence has coaxed the Buffaloto spend more time in the open and to become more day active. We saw a solitary lioness sporting a tracking collar, which of course is not popular with photographers. Unfortunately, she was being harassed by several mindless drivers in cars blocking her passage, and jockeying for position. Although this type of human behaviour has always been present in our parks in our experience it appears to be becoming more frequent!
Common Warthog are indeed common in Addo but this species probably never occurred naturally in this region and the founder stock was introduced. A controversial topic in the Eastern Cape with most landowners wanting to be rid of them but introduction is easy, eradication another matter altogether!
Not to dwell only on the large game, we also encountered a rock sengi (probably Western Rock Sengi Elephantulus rupestris) but not in the "correct" habitat. It was in the main camp, in the vicinity of the Forest Cabins, an area of dense Addo thicket without rocky habitat nearby. This species is reported from the park but only along the Suurberg and adjacent rock outcrops, along with the Cape Rock Sengi (Elephantulus edwardii). A third but distinctive species, the Round-eared Sengi (Macroscelides proboscideus) occurs in the park but only in limited areas of open country, particularly in the Darlington sector. An interesting sighting in an alien habitat for which we do not have an explanation.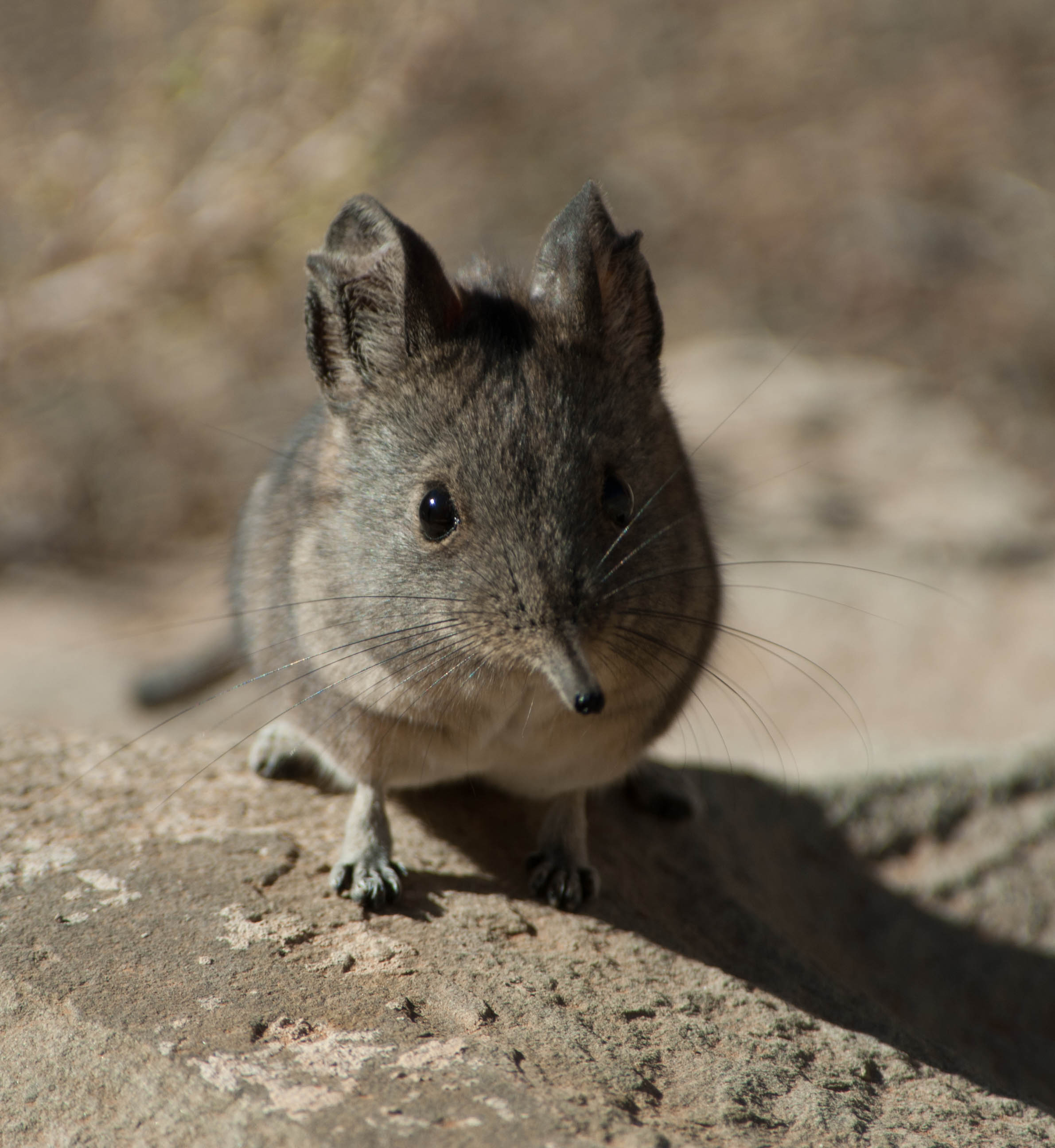 Mountain Zebra National Park near Cradock has long been one of our favourite conservation areas but some things do change. No more wandering the trails unaccompanied! The reintroduction of Buffalo, Hook-lipped Rhino and most recently Lion have seen to that. Two lions and a solitary lioness have been released here, each with a tracking collar. We encountered the two males on the Rooiplaat plateau with a young Buffalo kill close to the road. Unlike with such an encounter in Kruger National Park we did not have to share it with dozens of other vehicles.
A female Hook-lipped Rhino crossed a long open stretch of grassland "for us"! Although we have encountered tracks and dung of this beast previously, this was our first sighting in the park. Another first for us here was a sighting of two Aardwolf having an altercation; too far for the cameras but nevertheless a highlight.
As usual the Southern African Ground Squirrels provided us with entertainment and Yellow Mongooses were also very obliging.
And then it was back to the computers!