Penticton, British Columbia - 12. March 2014
We crossed back into Canada yesterday, in the narrow northern tip of Idaho, spent the night in Creston, British Columbia, in the Kootenay River Valley. We enjoyed our extended 'loop' through Idaho, the lava flows in the Craters of the Moon National Monument were impressive, the dark clouds, patches of snow and icy wind rather sinister but fitting. Most of the farms and fields give a very orderly (germanic?) impression? We have not researched where to populations now living and farming here have originated from. We encountered several mountain passes with rather wintery conditions, following the Payette River to Donnelly and McCall, but the snow was wet, more slush, visibility poor, just to remind us, that winter is not quite over in the mountains yet. We spent a night in Clarkston, just across the border in Washington, Lewiston is the brother city in Idaho, at the confluence of the Clearwater and Snake Rivers. This Clearwater River was all but clear, with the snow melt and rains all creeks were racing bringing down muddy waters to the main river channel. Ploughed fields were water logged. But the next day brought excellent views and sunshine.
This will be the last update of our travel map, we only have a short run from here to Kamloops tomorrow, on Saturday the real final leg via Clearwater to Williams Lake. A total of not quite 50 000 kms in 9 1/2 months. We will say goodbye to our truck and camper and leave Canada on the 19th of March .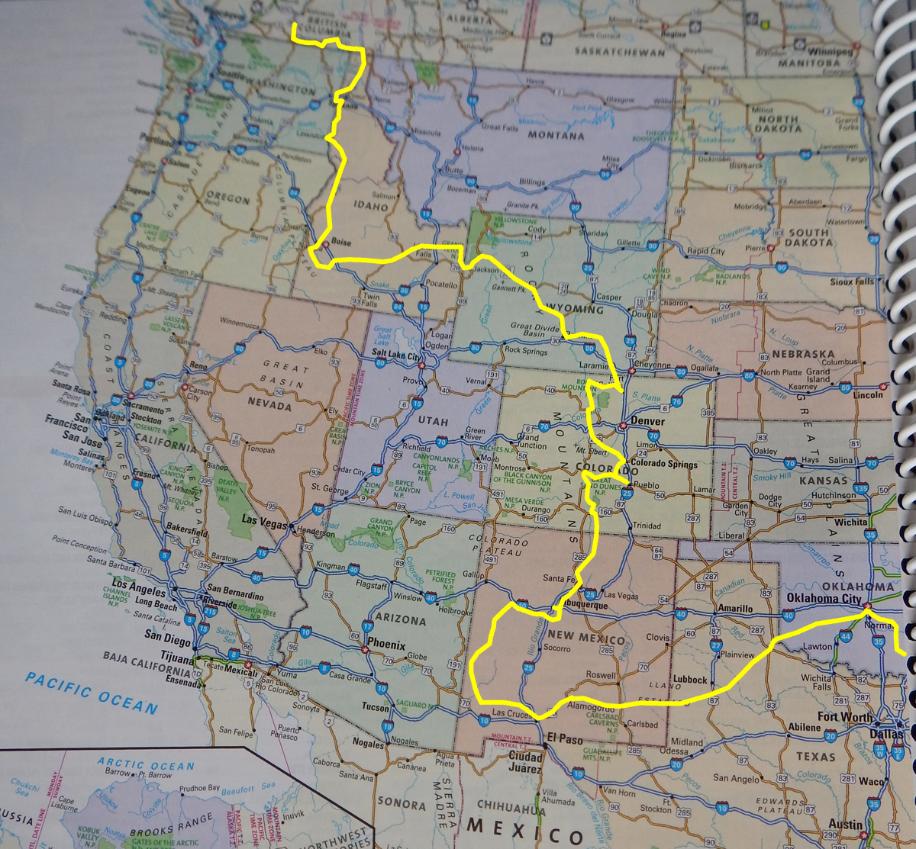 Arco, Idaho - 08. March 2014
We left Colorado yesterday, into Wyoming, a mix of fog, rain, sleet, and hail, then sunshine over the Sand Draw towards Riverton. We stopped for the night in Dubois, in the Wind River valley. Seeing lots of horses, partly mustangs, partly on Indian Reservation lands, partly on ranch land. Today we experienced a crisp sunny winter day, crossing the Togwotee Pass (2900 plus meters asl) into Grand Teton National Park. Being weekend hordes of snow mobile fans are on the roads and the slopes! We have seen the Grand Teton Range in 2008 but on a perfect winter day, plenty of snow still around, it is quite a different and fantastic experience. We just could not stop taking pictures. In Jackson we saw probably 2 000 elk in the valley just north of town, also smaller groups of pronghorn, bighorn sheep, coyotes, impressive. Moved further west, over the Teton pass into Idaho, travelling for a while on the western side of the Teton Range - an entirely different view - then dropped into the Snake River basin, sagebrush, agriculture, more open space with several mountain ranges as backdrops, very Karoo-like, wide open spaces, sage brush..... Now stopped for the night in the small town of Arco, tomorrow not far to the 'Craters of the Moon' National Monument.
Laporte, Colorado - 27.02.2014:
On a beautiful but cold sparkling morning (minus 14 degrees Celsius) we drove out from Walden to check on the pronghorn and elk again in North Park, we could see some groups in the distance. And we also heard quite a chorus of coyote as well, but could not see any, still great. We crossed the Cameron Pass and made our way down the Poudre Canyon to Laporte, just north of Fort Collins. Here we will stay with friends for a couple of days, another winter storm is predicted....

Walden, Colorado - 25. February 2014:
We are back to winter, we are back to the Rocky Mountains. The above picture was taken yesterday, in South Park, Colorado. We spent most of the day in the Cheyenne Mountain Zoo in Colorado Springs, a lot of interesting animals on display, and thanks to a very pleasant and friendly staff member: Dalli Garelle, we were able to see the mountain tapirs, what a loveley pair of animals. In the afternoon we made our way into the Rocky Mountains, Manitou Springs, Ute Pass and finally Wilkerson Pass, from where the above image was taken. We spent last night in Fairplay, Park County. Today we crossed the Continental Divide twice, Hoosier Pass and Willow Creek Pass. Winds were sharp, blowing snow across the road, but actual snow fall only started once we were settled in our motel room in Walden. And we had great views of dense herds of pronghorn and elk in the Arapaho National Wildlife Refuge near here. Dropping down to La Porte tomorrow.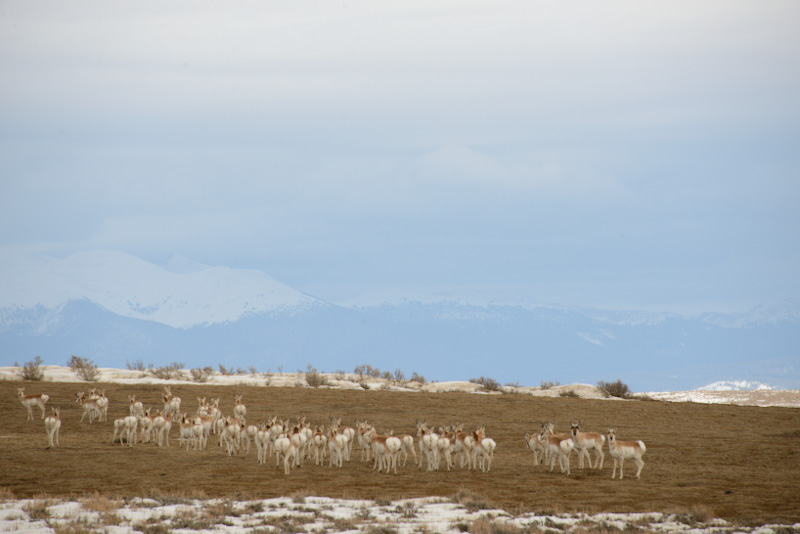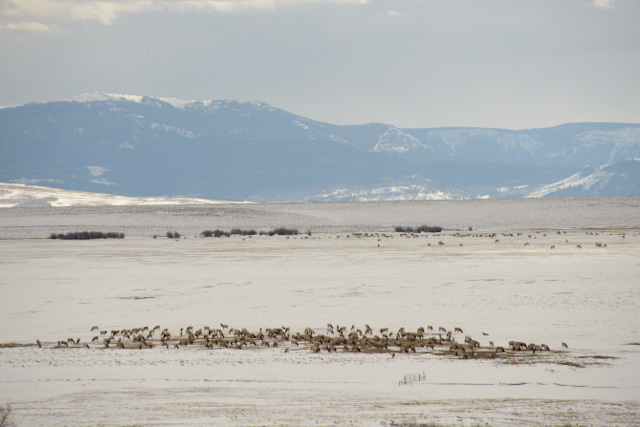 Albuquerque, New Mexico - 20 February, 2014:
On a curvy narrow road over the Pinos Altos Mountain Range, we reached the upper Gila River Canyon. On a short trail we saw seven Caves, with remnants of habitation from around 1200-1300 AD. Impressive. Next day we head north close to the Arizona border, the Gila and Mogollon Mountains and the Gila National Forest on our right for hours. Black Angus on every cattle ranch, very friendly locals waving from their cars as we pass them. This is all mountain country, we rarely drop below 1400 m asl. The Jewett Gap where the road crosses the Gallo Mountains is at 2500 m and old snow still lies in the shady parts of the pine forests. At lower altitudes grasslands and juniper bushes are dominant. At the end of the day we are totally overwhelmed by the lava fields of El Malpais National Monument. This night we spend in an old fashioned motel in Grants, on the Historic Route 66. We follow this route eastwards on Wednesday, taking the southerly pre-1937 section through Los Lunas and through the Abo pass heading north again along the eastern edge of the Manzano Mountains. The forestry campgrounds are all still closed, and we only find a few signs of Abert's squirrel. At the end of the day we drive up Sandia Crest on the east side of Albuquerque, there the picnic sites show more promise. We will check them out tomorrow. For a town Albuquerque is not bad, most buildings Spanish style adobe (or immitations), nice character, lots of murals and with the picturesque background of the Sandia Mountains. Not a cloud in the sky, but cold wind and only plus 8 degrees Celsius as maximum.
Silver City, New Mexico - 16 February, 2014:
We have reached the semi desert south west of New Mexico, crossed the Sacramento Mountains at 2900 m asl, temperature extremes on top and below in the valleys, followed the Rio Grande valley north of Las Cruces, pecans, pecans, chillies and onions! Now we are in the middle of the Gila Mountains, tomorrow will see the cliff dwellings. A few images follow:
11. February 2014 - Oklahoma City, Oklahoma:
Arrived in Oklahoma City on Sunday 9. Feb. and also hit the winter again. Grey skies and temperatures just above O degrees Celsius accompanied us across Mississippi, Louisiana and North-eastern Texas. We have covered a lot of ground - see the maps below - comfortably in our temperature controlled vehicle. We spent several hours yesterday in the Museum of Osteology here in Oklahoma City, excellent displays, interesting and well put together, skulls, skeletons and information. Can only recommend it to anybody in the area. Today a watery sun tries to melt the patches of ice and snow, but not successful. For us a day of 'house keeping', from emails, image catalogue to mundane laundry. Tomorrow we plan a visit to the Zoo and Thursday off towards New Mexico!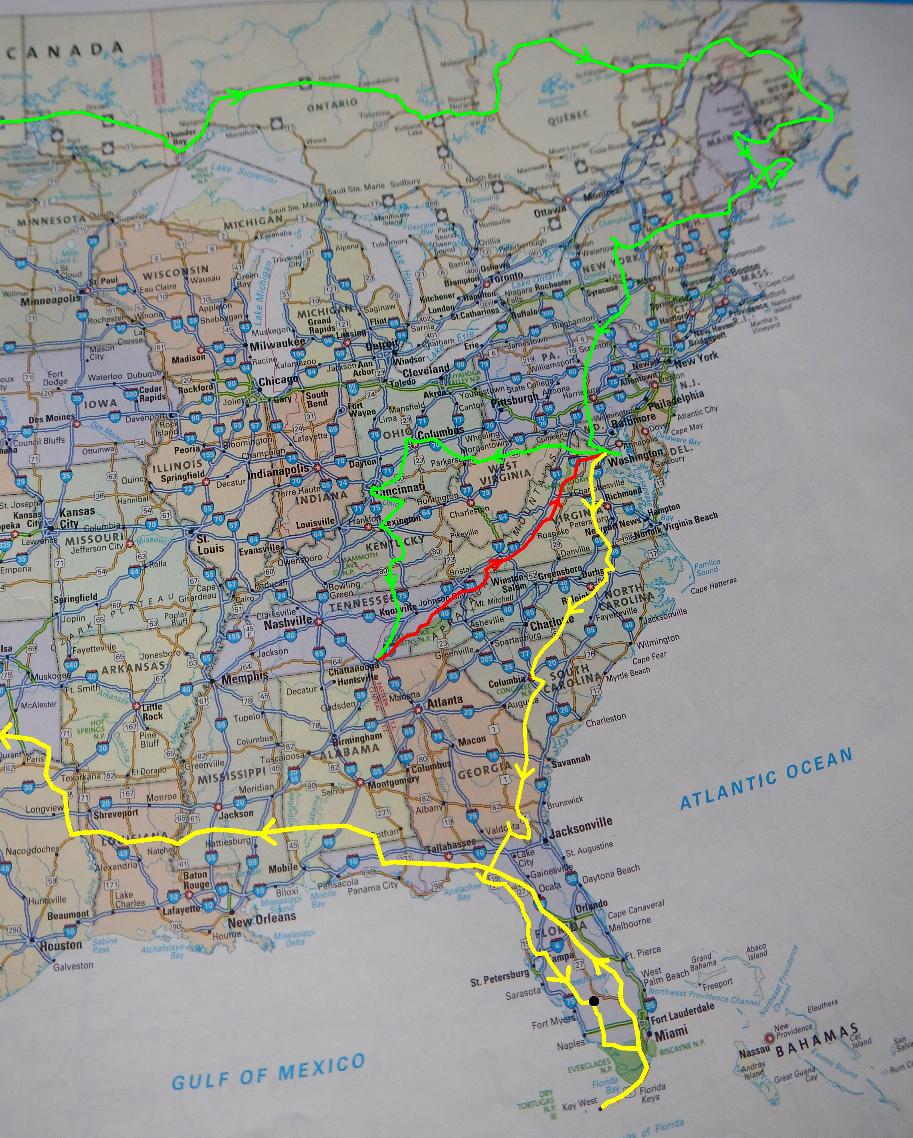 06. February 2014 - Monroeville, Alabama:
Who remembers 'To Kill a Mockingbird' by Harper Lee? We admit we had to look it up on Google. Anyway: Monroeville is Harper Lee's hometown and the background of the novel. But this was not the reason that we stopped here in Monroeville for the night. It was around 4 pm and the weather turned worse, rain turning to ice and a bit of wet snow with a temperature of 2 degrees Celsius. Enough to call it a day and find a warm room in a motel. We had only left Florida a couple of hours ago - but whichever-named winterstorm has clearly had its effects here.
As planned we pulled out of LaBelle on the Saturday 1. February, travelled at leasure a few side roads in the Big Cypress National Wildlife Reserve, then along the Tamiami Trail south to the Florida Keys. We found a pleasant, quiet old-fashioned motel in Key Largo for two nights with lovely views of the Gulf of Mexico and fishermen. On Sunday we travelled along the Keys on the US-1 - quite an experience, 7-mile bridge, mangrove swamps, the parallel running previous railway line as endless fishing pier. Good views of American brown pelicans, magnificent frigate birds, herons, egrets, a few turnstones and lovely sunshine and truly tropical temperatures! And of course too many people, yachts, resorts, villas..... still it was a good experience.
On Monday 3rd Feb we drove to Miami Zoo, spent the whole day there photographing and found the animals in excellent shape, even the big cats showed no excess fat. We spent another couple of hours there on Tuesday morning before setting off northwards ending up for the night in Taylor Creek on the North end of Okeechobee Lake. Finally found a viewpoint in the afternoon to appreciate the extent of this water body.
Yesterday we tried to find the least populated route to squeeze through between Tampa, Lakeland, Winterhaven to the West and Kissimere, Orlando metropolis to the East, and survived. We found a quiet route east of Gainesville through parkland with huge live oak trees and cattle pastures, ending the day driving through horse farms around Williston and Newberry.
18. January 2014 - LaBelle, Florida:
A decision is made: we are leaving our temporary quarters here in LaBelle on the 1. February and will hit the road again. First we will take a quick look at the Florida Keys then wend our way parallel to the Gulf Coast to Houston, Texas. From there northwards via Austin, Oklahoma City and Fort Collins, Colorado towards the Canadian border. We are very aware that we will still hit winter conditions on our way....... We have now booked our flights to return to South Africa and will be back in Loxton by the end of March.
We are out and about as much as possible to photograph and explore, we also continue to enjoy watching the boat traffic on the Caloosahatchee River.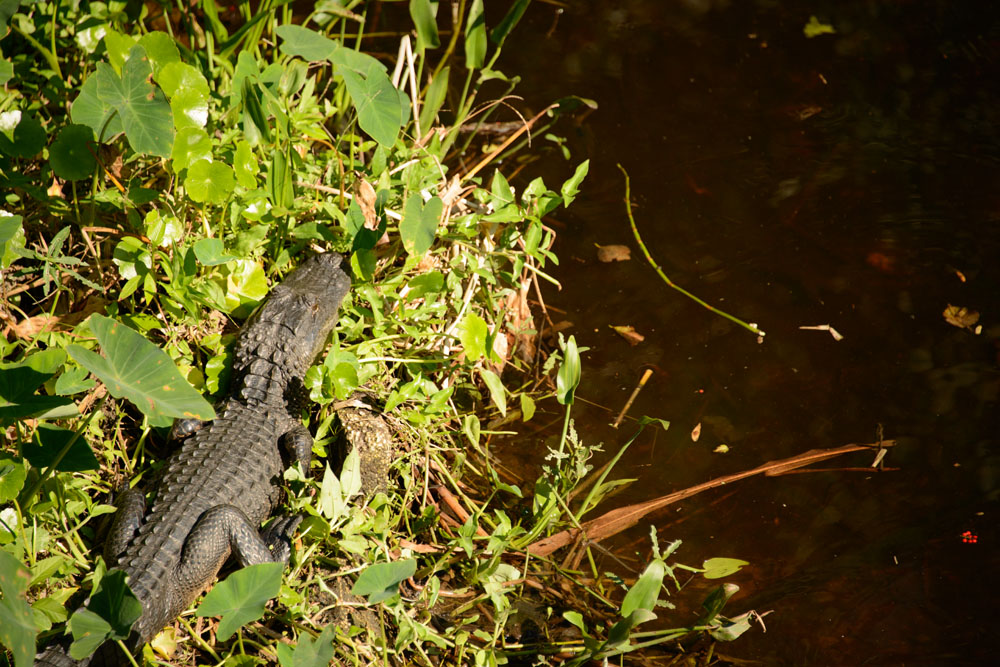 This is Brunhilde, the resident juvenile alligator - we watch it regularly from our veranda.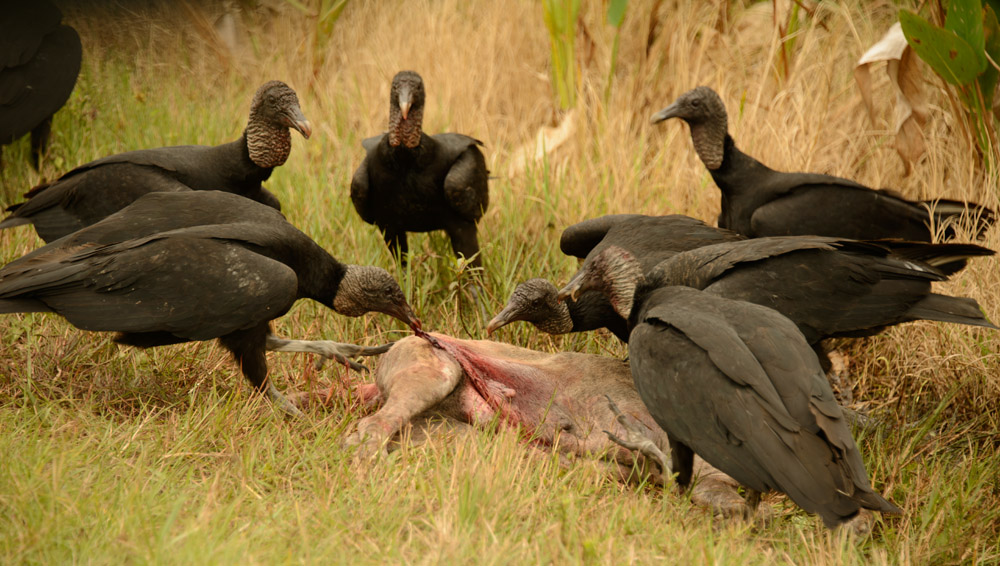 Close by we saw this group of black vultures feasting on an unfortunate dog killed on the road.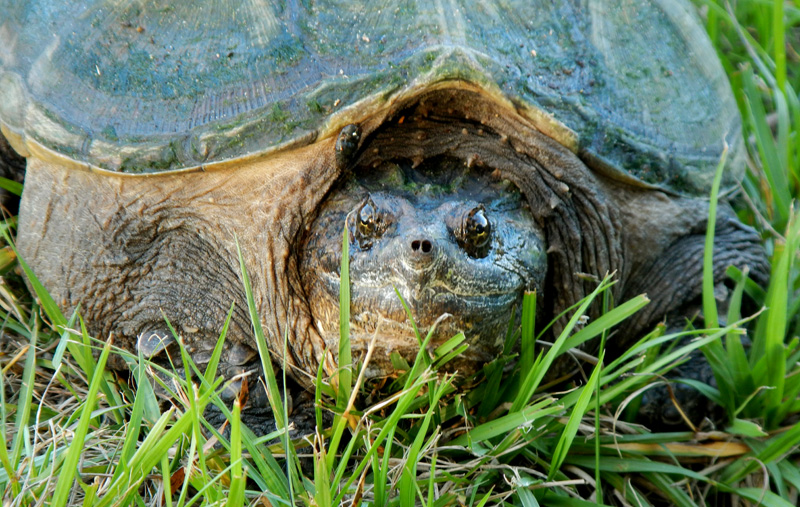 During a walk this 'snapper' turtle hissed and growled at me (M), it also has quite long and sharp claws.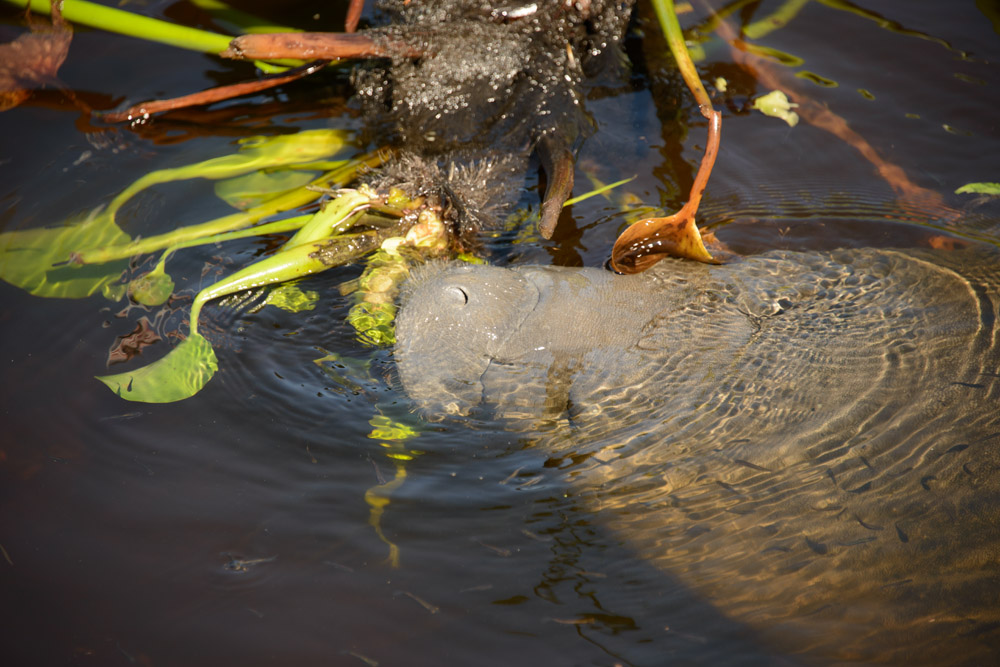 An absolute highlight a couple of days ago was watching a female manatee with young feeding between the motel's boat jetty and the river bank, we had wondered if manatees would come up the Caloosahatchee River that far.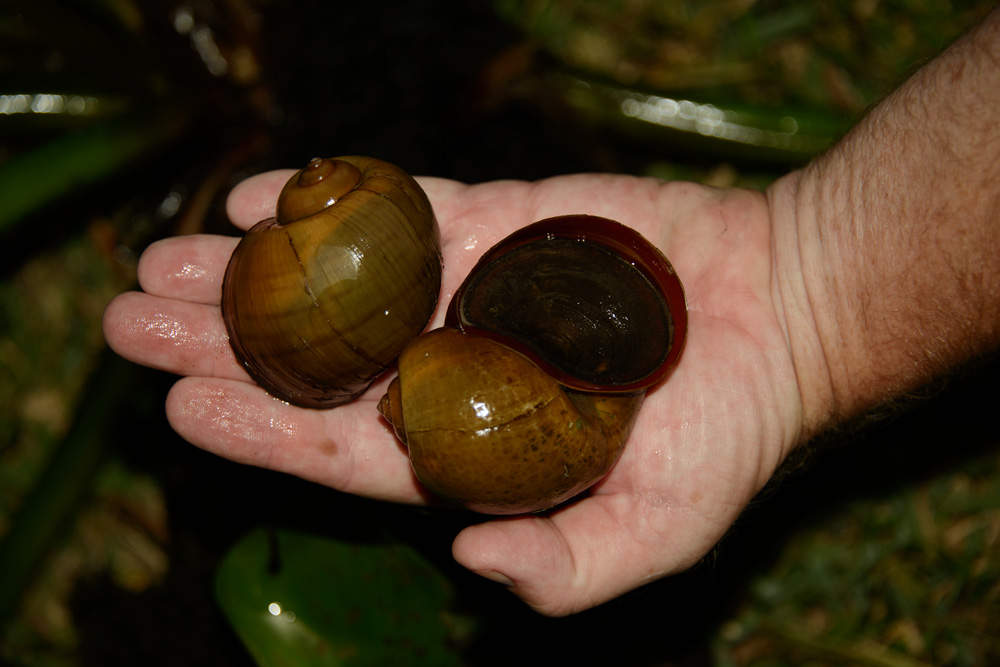 These are apple snails - the main food source of the limpkin, a rare local wader.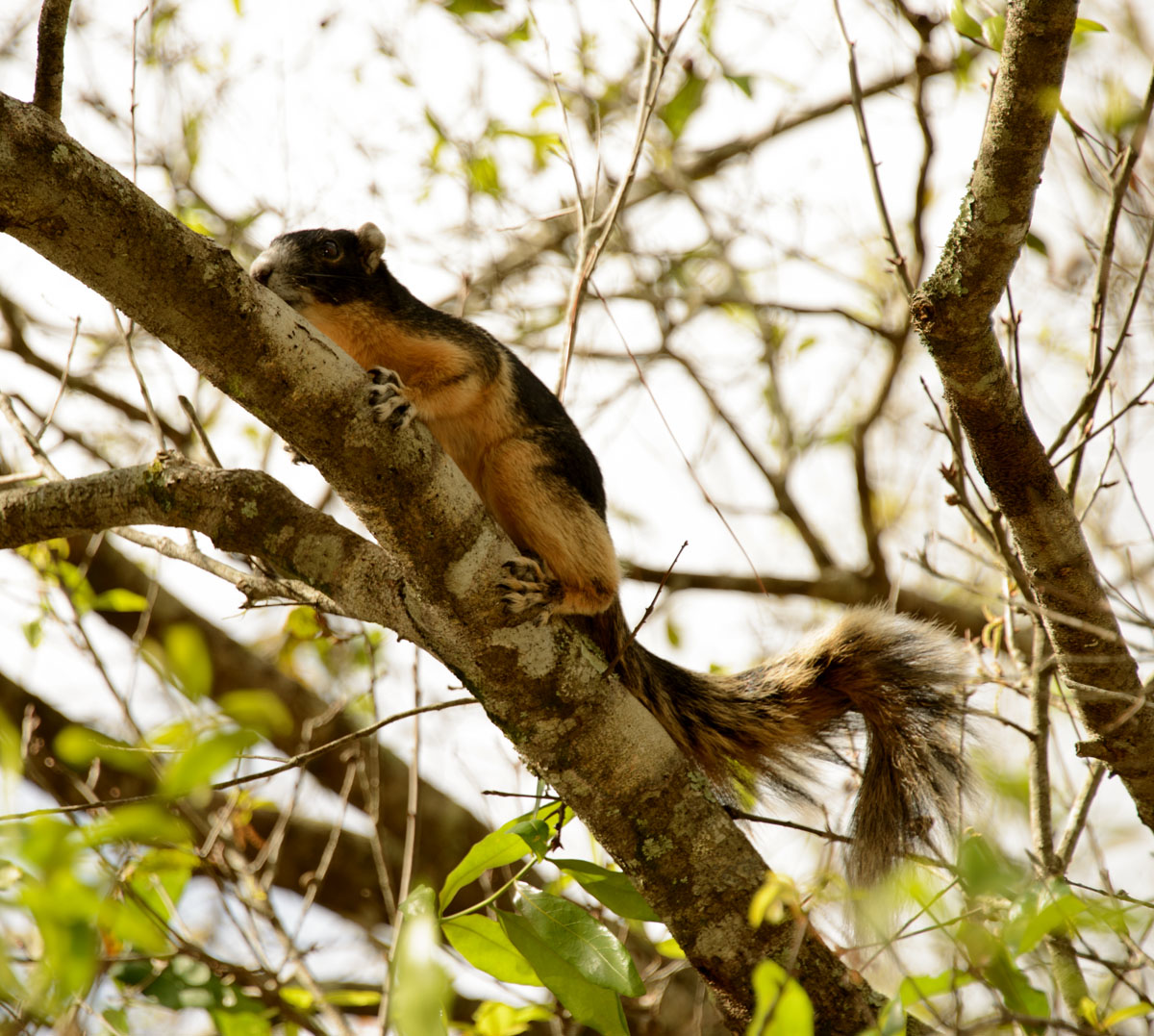 Finally we also got a good look at the local subspecies of the fox squirrel. What a handsome fellow!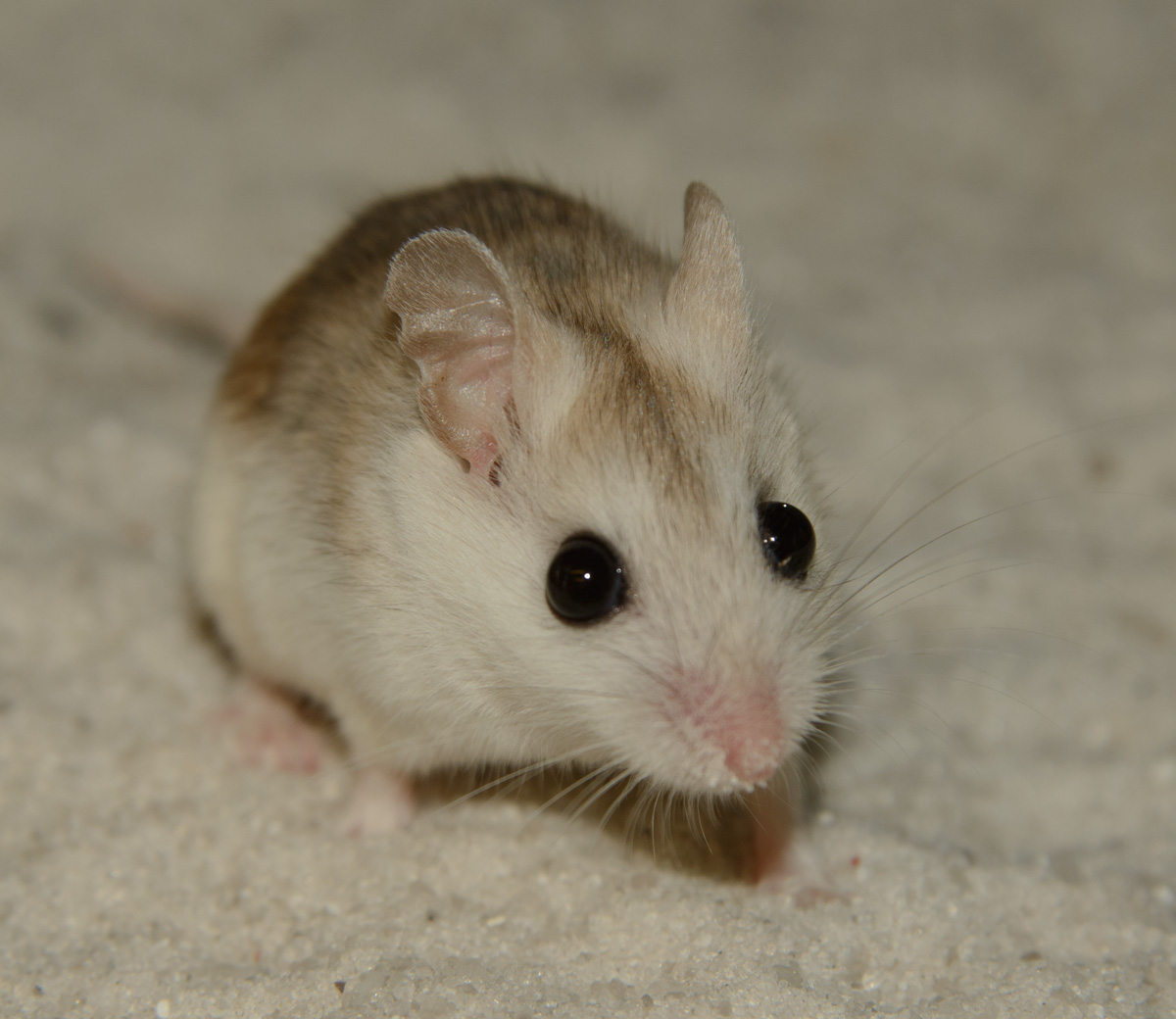 Another very cooperative and good looking beastie: the Perdido Key Mouse.
12 December 2013 - LaBelle, Florida:
This morning we woke up to fog, it also was several degrees cooler all day. Overall this created a totally new atmosphere along the Caloosahatchee River: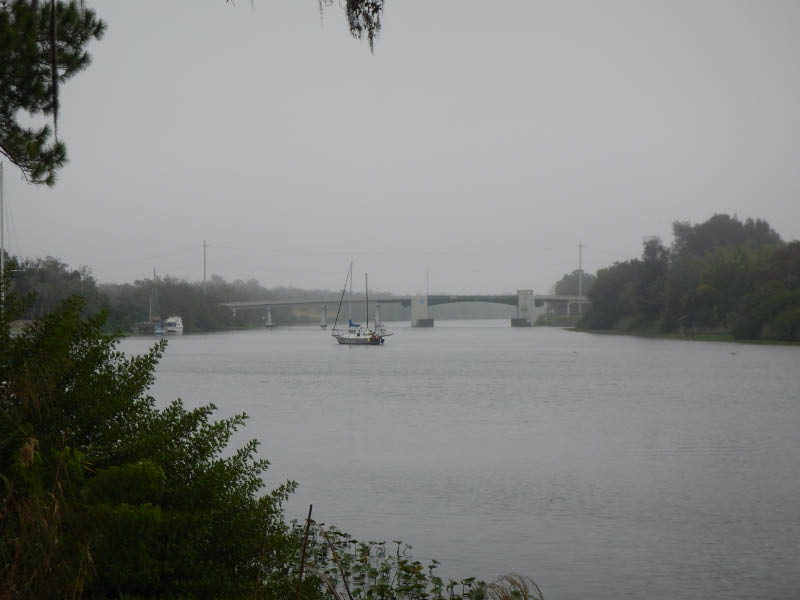 LaBelle, Florida - 8. Dec. 2013
Yes, we will stay here for 2-3 months, certainly all of December and January, possibly also February. With the latest cold front hitting the rest of the US and Canada, Southern Florida is a safe place to be. We enjoy watching the different moods of the river, the vultures circle above every day and use the trees of the park and the close mobile phone tower to roost. Every eveing mobs of tree swallows fly low over the river and bathe on the wing, and our resident Cuban anole entertains us. We made a day trip into the Okaloahoochee Slough a few days ago, very peaceful, we were all alone, saw plenty of fresh signs, and still wet panther/cougar/mountain lion/puma droppings. We are busy with projects, corrections and additions for our publisher, updating our photo catalogue and adding images, in between relaxing, reading and eating plenty of good fish. The latest maximum temperatures during the day have been around 28 and 29 degrees Celsius, dropping at night to around 15 or 17, so nothing to complain about.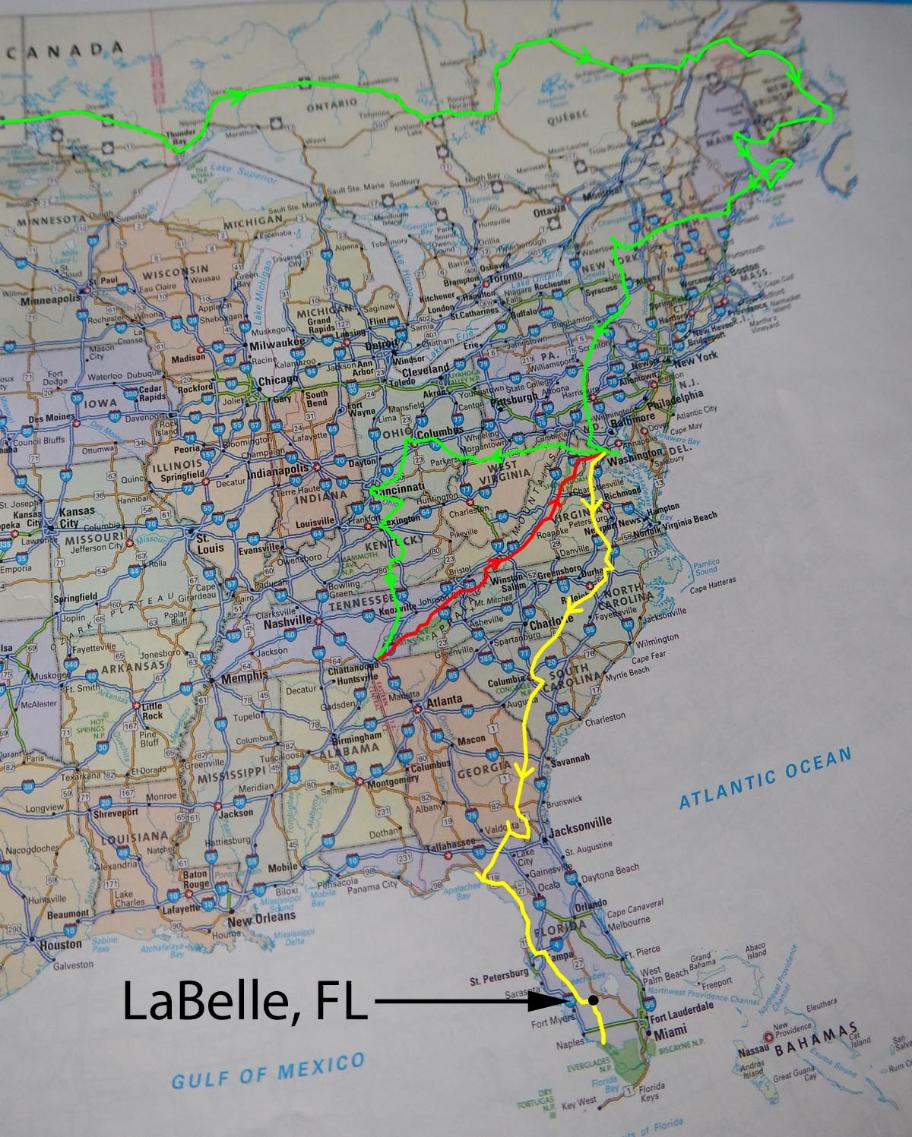 LaBelle, Florida - 24. November 2013:
We have moved south a bit, on the way we stopped to try and see manatees. This is early yet, these huge marine mammals move into the rivers of the Florida coast to warmer springs as the ocean temperatures drop, but so far that was not the case. We did see four manatees though in Homosassa Springs, they live there permanently, in mid November the gates are opened to let 'wild' and free manatees come in to share the springs. Tampa Zoo has a large manatee hospital, very impressive work the staff do there. Manatees are injured by boat motor propellers often, injured animals are nursed in this hospital and eventually released back once recovered. On the day of our visit two manatees were cared for, both had broken ribs and a pneumothorax (collapsed lung) caused by a boat propeller. The animals can't dive with this extra air caught in their chest cavity.
LaBelle is a small community at the Caloosahatchee River, this waterway is partly canal partly natural river leading from Okechopee Lake to Fort Myers and the Gulf of Mexico. The small comfortable motel is at the river, next to the draw bridge, which regularly opens for yachts. The vegetation is lush, the temperatures pleasant. We undertake day trips to state parks, forests, swamps and the Everglades. We may even over-winter here?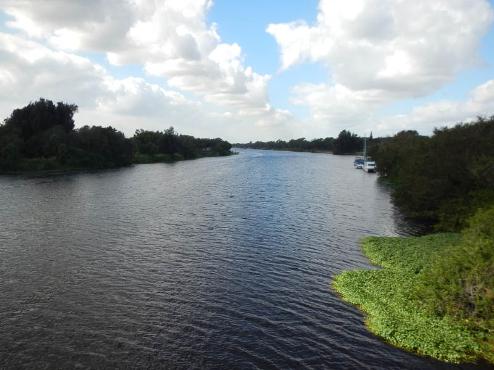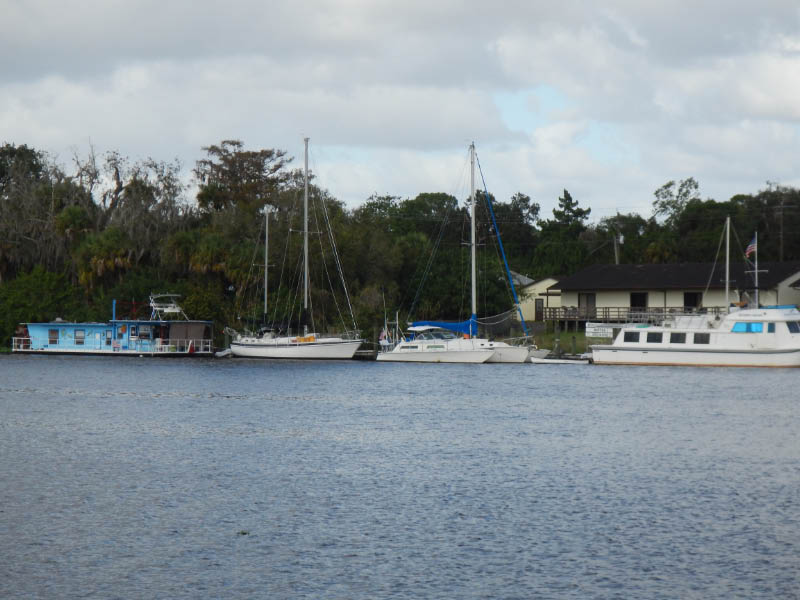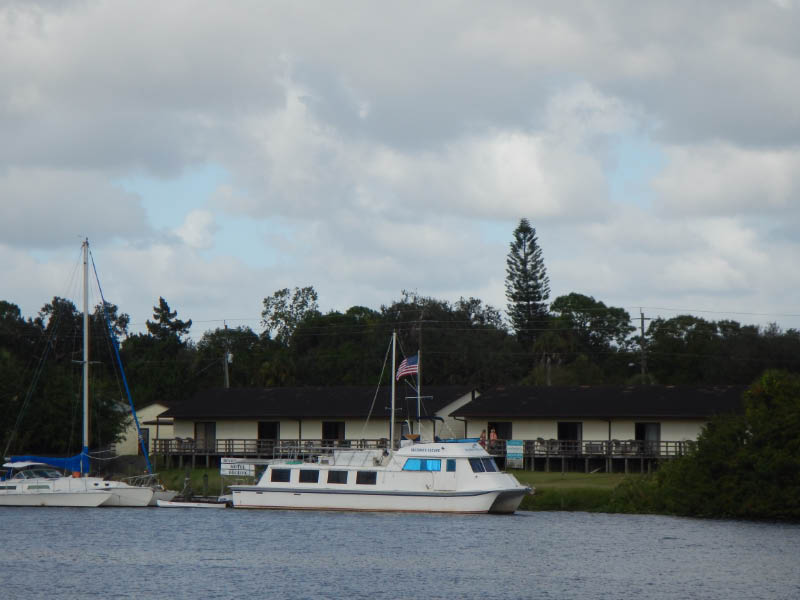 Keaton Beach, North West Florida - 10. November 2013:
We are overlooking the Gulf of Mexico! And of course enjoying the temperatures and the sunshine.
Our photo session at the University in Columbia went very well. It was expertly prepared and organized, and the Peromyscus modelled very well. Next day we stopped in the Congaree National Park just about 30 km south east from Columbia, they have a very interesting board walk through the swamp forest, a total of 2.5 miles, one part elevated another closer to the ground. Heard a lot of woodpeckers, and enjoyed the atmosphere, narrowly missed school groups.
Thursday evening arrived in Stephen C. Foster State Park at the edge of the Okefenokee National Wildlife Refuge. On Friday we hired a little metal motorboat - or jon boat - and spent the whole day in the swamp on the water, what an experience! Winding our way between bald cypress trees, sometimes almost an obstacle course, avoiding some floating logs. Plenty of alligators of all sizes basking in the sun, or drifting in the water. Have a look at the images. The bird life a bit skittish, but got good views of great white herons, wood storks, white ibis, belted kingfisher, turkey vultures and black vultures. Only at the end of the day we met two other boats briefly, bliss!
Yesterday made our way into Florida, cruised through two of the State Parks, one along the Suwannee River the other featuring one of the famous fresh water springs. A large network of springs and caves is the delight of scuba divers here in northern Florida. We wondered why the wooden benches in this park were so high and upright - to rest your bottles and gear ready to be strapped on.
We are staying two nights here in Keaton Beach, in a simple motel, first floor view of the Gulf, sea breeze blowing in, watching fishermen hoist their boats from the trailer to the water with a special crane. Indeed, very pleasant. Brown pelicans are roosting in the trees behind the motel. The place has already got a slight central American feel.
Washington, DC - 1. November 2013
Our second week in Washington draws to a close. Except last Sunday we spent every day in the mammal collection of the Smithsonian Institute Natural History Museum. We are looking at and photographing skins and skulls ...... this afternoon we will finish. And then have a good meal somewhere (Chop House?)
We are staying in a motel in Arlington, directly opposite the barracks of Fort Myer, some mornings we hear rifle volleys, or even big guns, nice touch! We are also experiencing the absolute delight of commuting in a big city! The motel shuttle takes us to the Metro station, from there 15 min Metro ride to the Federal Triangle, 5 min walk to the Museum. On the way back we get out at another Metro station (good food shop there), and have a 15 min walk back to the motel to stretch our legs. The walking is the best part, the rest..... very dependant on what time, it can be really crowded, roads blocked and crawling pace, so started leaving at 7am, that makes a difference, one has a bit of space. We are glad we don't have to do this on a daily basis to earn our living!
Our trip from Chattanooga back to Washington was indeed a highlight: we followed the Blueridge Parkway from the Great Smokey Mountains Nat Park and then the Skyline Drive for long stretches, although autumn colours were still early, quite an experience.
The weather is still amazingly mild, there has been a lot of sun, today its drizzly, but the leaves have changed very rapidly in the last couple of days, every morning the roads are more and more yellow and red-fringed. It is now truly time to point the Tacoma's nose to the south. We will do so on Sunday 3. November, first goal: University of South Carolina in Columbia. They breed deer mice, and we will get a chance to photograph them. Next goal - Okefenokee Swamps and then Everglades.
We have also survived Halloween finally!
17. October 2013 - Chattanooga, Tennessee
Good news! Washington is open for business again! At the twelfth hour last night Senate, Congress and the President have signed a deal, everything will be open again, including National Parks and the Smithsonian Museum. Tomorrow we are heading back there again, it will take us a good 2 days driving and we are planning a zoo visit in for Saturday in Roanoke, Virginia.
We spent the whole of Tuesday in the Kentucky Horse Park in Lexington, even Chris was enjoying it! Although there was no event and the grounds were quiet, there was enough to see. Two performances to show different horse breeds of the world: ever heard of Shire Sport Horse, Kiger Mustang, Paso Fino and Stonewall Sport Horse? Then in the big barn (apparently the biggest on a farm in North America) harnessing two cart horses for pulling a trolley. (Watching the harnessing was much more exciting then the trolley). Another highlight was the International Museum of the Horse, very good displays and information on evolution and history. The Kentucky Horse Park is also the home of the American Saddlebred Association, and they also have a large display and gallery, so has the Arabian Horse, lovely films and portraits.
Travelling along the Tennessee River - Chickamauga Lake we arrived in Chattanooga yesterday, where we visited the Zoo today, a small one, but well worth it, with good inside displays of small mammals and reptiles, so the overcast and drizzly day did not hinder us. And Chattanooga already has a humid subtropical climate!
Aberdeen, Ohio - 14. October 2013
As Congress is still locked in a stalemate or showdown (showing the world what??) we left Washington on Friday 11. October, unfortunately in pouring rain, which lasted halfway across the Appalachian Mountains. We followed route 50 a very curvy quiet backroad through the forest, scattered small settlements or isolated houses in between, and plenty of historic reminders of both the revolutionary and the civil war. We visted the place Jeb Stuart was located with his cavalry, whilst Lee was waiting for him in Gettysburg. We were amazed how much forest still survives, despite roads, interstates, settlements and powerlines. The weather improved the further west we got, classic warm sunny autumn days that start with dense fog in the morning. When we approached Columbus, Ohio on Saturday morning, we did not have the feeling we were approaching a big city, except that traffic picked up.
We spent Saturday in the Columbus Zoo and Sunday in Cincinnati Zoo, except for crowds of people and screaming kids the visits were well worthwhile, both zoos have a large variety of animals, mostly in good enclosures. Today we are stationary in Aberdeen, Ohio, to work up our photo harvest. This small settlement lies on the north side of the Ohio River, across the water Maysville, Kentucky. We even had Kentucky Fried Chicken for lunch, almost appropriate, cheap and not much else on offer. Tomorrow we are heading for World Horse Park in Lexington, Kentucky.
Washington DC - 5. October 2013
Now two weeks in the city, the first week went well, working every day in the Smithsonian collection, visited the National Zoo on Saturday. But from Tuesday 1. October we have not been able to go back to the Museum due to the Government shutdown! Very annoying, we find enough to do, thats not the problem. We hoped to finish all the photography of specimens in 3 weeks, now....? Waiting for a solution.... if it takes too long we will move on, and maybe come back later? We don't need to go into lengthy remarks on what we think of this impass and the people causing it......
The weather is absolutely amazing, real summer temperatures and mostly sunny the whole time, a change is expected by monday, though. We have been in town yesterday again, walking the Mall, there is a strange atmosphere, like everybody is holding his or her breath. The lawn areas on the Mall are roped off, how ridiculous. But we managed to take video and photos of the grey squirrels living there.
Our hotel is close to Crystal City and the Pentagon in Arlington, convenient access to the Metro. On Thursday we drove out to Chesapeake Beach to meet an old friend of Mathilde, saw the bay, all built up with Marinas, fishing charters waiting for customers, plenty of gulls, terns and a good seafood meal.
The map has been updated finally, and there are a few new images as well.
Washington, DC, Sunday 22. Sept. 2013:
Arrived today in the city..... the last days travelling through Pennsylvania, visiting Gettysburg, wars... politicians,... we cruised through the Military Park of Gettysburg today, the turkey vultures were cruising over the old battle fields... put a few images together, see the gallery. From tomorrow we will join the thousands of commuters on the Washignton metro rail system.
Sherburne, New York, Friday 20. Sept 2013
Cruised through Adirondack Park and forest almost all day today. Quite amazing - the colours are now really coming out, especially amazing the deep reds of the maples. Of course - a lot of people, holiday homes, bikers, cyclers, fishermen, canoes.... but still worth while to see this part of New York State. We crossed the 'young' Hudson River, saw remnants of English and French forts, history lessons come to life! The weather is absolutely amazing, fourth day without a cloud in the sky, warm temperatures, although today there was quite a lot of haze unfortunately.
We crossed from Maine into New Hampshire and then Vermont, both states having rather narrow 'waists' here in the north. We try to stay far enough west to avoid the really big habitation centres. Tomorrow we aim for Gettysburg, trying to recall the historic facts. Then Sunday on to Washington DC, getting ready for Smithsonian's treasures.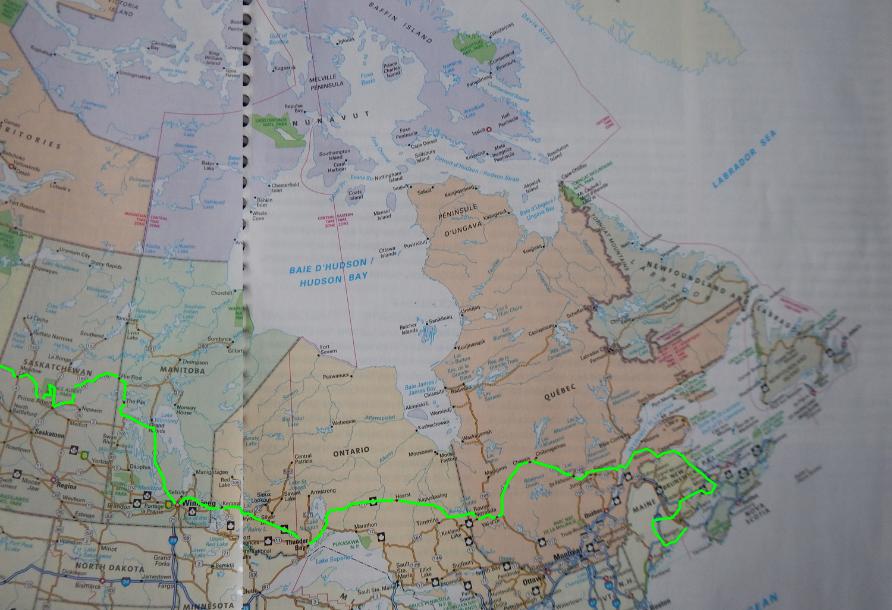 Monday, 16. September 2013, Eastpoort, Maine:
Arrived here yesterday, this is the US equivalent to the Bay of Fundy, in importance and spectacle regarding high tides, tidal bores, whirlpools etc. The whirlpool here is called 'The Sow'. Found a small motel on Harrison Point, parts of the bay, inlets, islands all around. Spent almost 2 hours yesterday late afternoon - early evening sitting on the rocks, watching the tide come in. Saw an eider duck almost chocking on a crab, a blue heron floating by in the air, several bald eagles on the hunt, numerous gulls, cormorants and porpoises in a feeding frenzy (although latter was quite far away, but well visible through the binoculars). Yacht, fishing boat and a ferry moved past. Will repeat the same today, if it does not rain by then....
The intended visit to Baxter State Park in Northern Maine unfortunately 'fell in the water', low clouds and continuous rain obscured all vistas. So we continued to cruise slowly through Maine on back roads towards Acadia National Park. We were overwhelmed by the number of visitors at this time of the year! Yes, we admit, it was weekend, and the autumn colours will attract a lot of people. The scenery and coastline are breath-taking, but the people around you are difficult to ignore and difficult to keep out of photos. Today being monday it is much quieter on the coast.
We enjoy travelling through the small Maine villages, a lot of historic buildings, with at least a 200 year history! What a difference to the gold rush towns in the North West!
Friday, 13. September 2013, Medway, Maine:
Earlier today we crossed from New Brunswick into the US, Maine, at Vanceboro, nice quiet borderpost, still and again, fingerprints, face photo..... all very friendly! Weather unfortunately not good, drizzle, fog, then periods of heavy downpour, the famous autumn colours are starting, but not in full swing, and certainly not good for photography in this sort of weather.
But lets look back at some of the highlights: in St. Felicien we visitied the 'Zoo sauvage' on Monday, it is officially called "Centre of Conservation of Fauna of the Boreal Forest", and it is a superb Zoo, good displays, all animals look in good shape, there is a lot of relevant information displayed on the boards. In the first hour after opening we had good viewings of otter, fox, fishers, the wolverine was fast asleep... The hours spent there were certainly worth while. In the afternoon we travelled through gently rolling hills towards the St. Lawrence River and reached Les Escoumins just as it got dark. We ate a lovely meal of Atlantic cod this evening. Next day we spent the morning along the rocky shore, the tide was out, hundreds of gulls feeding in the shallows and along the mudline, at least 5 different species. At 1h30 we were expertly 'loaded' on a ferry, amazing, how many vehicles they can squeeze onto this little ferry, learnt a lot from their navigator-ancestors, the Basques (they were the first Europeans arriving on the shores of the St. Lawrence River!). The crossing to Trois Pistoles takes 90 minutes, the waters were calm, sun shone a cool wind was blowing. We saw several groups of dolphins, and at the end a large group of Beluga whales, like white ghosts, visible when shallow diving, then coming up onto the surface, what a sight. Unfortunately too far for good photos.....
Next day, in rain, crossed into New Brunswick, still bilingual although more and more English as we make our way South. In the late afternoon we establish camp in Fundy National Park. The climate is weird, actually quite warm, but thick fog and high humidity, despite wind. So our view of the extreme tides in the Bay of Fundy are somewhat obscured. Otherwise a lovely quiet camp (out of season!) and we observe, film and photograph Eastern Chipmunk and snowshoe hare, what a pleasure to watch these small creatures.
Today cruised along through Sussex, past Fredericston, grey, drizzly, some heavy showers, admired the massive and beautiful brick railway station in McAdam - why does such a small settlement build such a massive and impressive railway station? - and then crossed into Maine, USA. We are sleeping at Medway, outside Baxter State Park today and hoping for better weather tomorrow. Enjoying an excellent pizza.
Sunday, 8. September 2013, St. Felicien, Quebec:
Nous sommes arrivees! Yes, we are in Quebec, and yes, this is totally French-speaking. 'We are different ...' I am digging out my school French with the help of some iPad apps, very convenient to search and brush up. So far so good, we get accommodation, we get food. And they sell wine here everywhere, even at the gas station convenience store. Indeed convenient.
We have kept to the northern most through roads in Ontario and Quebec so far, still long stretches of boreal forest, a lot of wood cutting, each village / town with its own pulp mill (identified by smell) and chip board factory. In Hearst, Ontario, the sawmill was right behind our motel, working right through the night, large cranes, Chris estimated 80 000 in one row, then found another row behind, and another, so a total of 300 000 trees at least at this one site!! Is that sustainable, Canada?????
Our only consistent wildlife friends are the ravens - all across. Otherwise we are disappointed with the lack of roadkills, the odd mink, or porcupine, we expect more with the amount of traffic. Today we saw a few good large bore bear droppings, otherwise the Canada geese in formation flying overhead. And a group congregating on the lawn in front of the golf club in Label sur Quevillion, with one single snow goose present.
Temperatures are dropping, we started today with only 5 degrees, rain showers on and off during the day, sun in between, strong winds. We have stopped at St. Felicien, on the outskirts we found the 'Zoo sauvage' , celebrating the wildlife of the boreal forest, looks promising, we will visit it tomorrow. Then on towards the St. Lawrence. (Updated map follows:)
Thursday, 5. September 2013, English River, Ontario:
We spent 2 nights in Winnipeg, visited the Zoo there as well. Then on to Whiteshell Provincial Park at the Manitoba and Ontario borders. Today continued southeastwards and ended up at English River Inn, on Highway 17, lovely setting, small lake, forest around, apart from the road nothing, no urban sprawl. Pleasant to switch off. The weather is holding well, lovely sunny days, in Winnipeg it reached 29 degrees, today we went up to 22. But the nights have a distinct nip to them. After all it is fall! We have reached a new vegetation zone, especially in Whiteshell Provincial Park more deciduous trees, the first maples just getting a reddish touch, a new pine as well: jack pine, sheds bark in thin strips like the commiphora trees in Africa. Otherwise lakes, water ways, rapids, never ending, all interlinked, the road lined with bulrushes, wild rice. In between granite outcrops of the Canadian Shield. Again elements that remind us of the far northern arctic zones at much lower latitudes. We are trying to cover some distance now to reach Quebec and the St. Lawrence waterway. Canada geese are congregating to fly south. Bear droppings are full of berries.
Sunday, 2. September 2013, Flin Flon Manitoba
From Yellowknife we headed south, trying to cover ground, a stop over in High Level, Alberta. Quite amazing further south to cross some of the rivers we saw first in BC and the Rockies: Peace, Athabasca and North Saskatchewan Rivers! The latter two long lost their glacier blue! Our goal: Elk Island National Park, outside Edmonton, where we spent three nights, and apart from pleasant scenery observed plains bison herds for hours. The bulls' rutting and mating season is starting, not in full swing yet, but there was a lot of bellowing, smelling, flehmen, rolling. A really good bull's roar is close to an African lion's! The earth trembles. We also made a short foray into Edmonton, to visit the Valley Zoo, the weather was bad and the displays were not too good either, but there is a lot of construction going on.
Then on eastwards.... into Saskatchewan, Meadow Lake Provincial Park. The birds are congregating to get ready for the move south, a large skein of sandhill cranes flew over our camp site. Unfortunately, most lakes are dominated by power boats. Next stop Prince Albert National Park, where Canada honours Grey Owl and his beavers. More lakes, mixed forests in places really so dense that one does not see much right and left of ones path. The mosquitoes are not quite finished here yet....
We also stopped in the town of Prince Albert, much larger than the namesake in South Africa, logging, pulp mill, and mighty river dominating. The road takes us east then north and east again, through more forests, more and more lakes, the temperature plummets from 28 degrees at lunch time in the city to 12 degrees in rain and mist as we approach Creighton (on the Saskatchewan side) and Flin Flon (in Manitoba). Here we found a small quiet motel, with internet connection, to update, check emails, organize, charge various batteries and stay off the roads for the long weekend. We did consider a train trip from Thompson to Churchill (there is no road access), but the best time to see congregated polar bears is only in October and November. There are no roads to cross the country eastwards, we will have to drop south to Winnipeg next, and then cross into Ontario and Quebec.
The map is updated .... and there are a few more images below!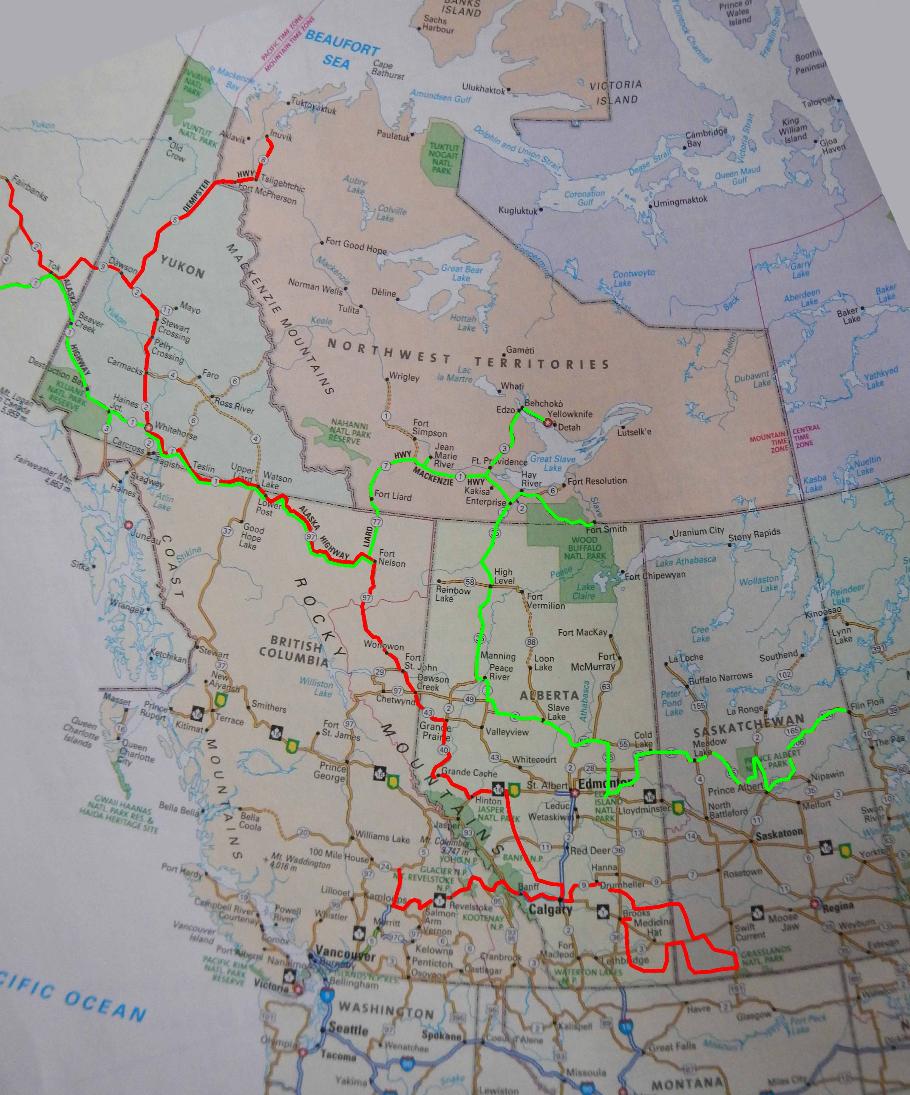 Friday, 23. August 2013, 16h00, Yellowknife, NWT
Good news! We just fetched our car - with brand new front differential and driver axel! We really did not expect that the spare parts would come as promised. So first thing tomorrow morning will be loading up the camper and off south!
20 August 2013, Yellowknife, Northwest Territories, Canada
Monday 19 August, a 10 hour drive with our Tacoma on a trailer being towed 750 km from Fort Smith to Yellowknife, the capital of Northwest Territories. We drove through 3 massive thunderstorms, the cloud formation was impressive all the time, we crossed the very new bridge over the MacKenzie River at its exit from the Great Slave Lake. We saw a group of wood bison along the road side, a beaver swimming in one of the many small lakes scattered in the boreal forest. For the last 90 km of the road roadsides are dominated by granite rocky outcrops, indeed the whole town of Yellowknife is built on granite and basalt rock. Otherwise what should we say about the town of Yellowknife? Modern, growing, which our Somali taxi driver found very exciting... The usual chain stores, including Walmart and Canadian tire, a lot of governement buildings, a large public library with extensive opening hours: 9 am to 8h30 pm! We have not had a chance yet to see the Great Slave Lake properly, or any of the multiple lakes around the town. But we will get the chance, it looks like we are stranded here for at least a week to 10 days, as it will be difficult to get the spare parts up to the northern most city of Canada... the wisdom of Toyotoa headoffice....
A few images to follow....
16 August 2013, Fort Smith, North West Territories
An unplanned lengthier stay in Fort Smith! We arrived here on Wednesday 14th August, on the way through to Wood Buffalo National Park, but heard a diff noise - went to a mechanic here, and bad news: one bearing in front diff totally gone, apparently unheard of for a still young Toyota. Good news it is under warranty, bad news we will have to be towed to Yellowknife on Monday to the only Toyota agent in the North West Territories.
Fort Smith is a pleasant small town on the mighty and famous Slave River, we have set up camp in the very pleasant and quiet Queen Elizabeth Territorial Park at the edge of town, walked to the library today, where we can connect to the internet. Everybody is very pleasant and helpful. A special thank you and note of praise to TDC Contractors here in Fort Smith, who were helpful, efficient, pleasant in the long tortuous telephone way to get Toyota to move. Anybody breaking down in this part of the world - go there.
Tomorrow we will hire a car for a day visit to the Wood Buffalo National Park, we have seen one group along the road on our way here, they were quite restless. The rutting season is on, we hope to see some displays tomorrow. There is a lot of smoke in the air, plenty of patches of forest fires all around, warm and summery temperatures, we already experienced several thunderstorms. We will now have a look at the 'Rapids of the Drowned' on the Slave River, one of four rapids in this stretch. Pelicans are supposed to feed there. Fort Smith was established as a portage staging point along the river, and now people come from all over the world for white water rafting! Alexander Mackenzie named the rapids as above!
Another highlight yesterday: a problem black bear was shot by the conservation authorities in camp, as it had become a nuisance raiding the bins and disturbing tents. We heard the shots near, Chris was there as they dragged the animal to the truck. Fresh feet images!
11 August 2013, Sunday, Fort Nelson, British Columbia
On our last day in Valdez, we were lucky to see a female brown bear with a yearling cub feeding on the spawning salmon at Abercrombie Creek, it was drizzling, the bears seemed to be so full but knew they had to keep on feeding. We first only saw the youngster on his own, he disappeared into the bush alongside the creek. But we could hear him begging and calling to his mother. Almost 45 minutes later they both came out to fish again, well worth the wait.
From Valdez we wound our way past Glenallen, and the Tok Cutoff to the Alaska Highway. The temperatures improved quite a lot! Lovely forested mountain ranges with plenty of shallow lakes, where we finally saw the female moose with 2 calves. On Wednesday we left Alaska, staying over at Kluane Lake. The weather turned cold again, but we saw a group of 20 Dall sheep on a far scree slope! They usually spend the summers high up in the mountains.
Next stop another visit to the Yukon Wildlife Park in Whitehorse, always worthwhile. Now the mule deer had plenty of young, and the Arctic fox its chocolaty brown summer fur. The weather held and after a night at Muncho Lake, we saw a group of Stone sheep in Stone Mountain Provincial Park this morning. How they move on these steep rocky slopes, absolutely sure footed!
Now in Fort Nelson, catching up on emails, doing laundry... the mundane things! Tomorrow off north again, the Liard Highway into the North West Territory. Although the temperatures are still in mid twenties, every now and then we glimpsed a yellow leaf!!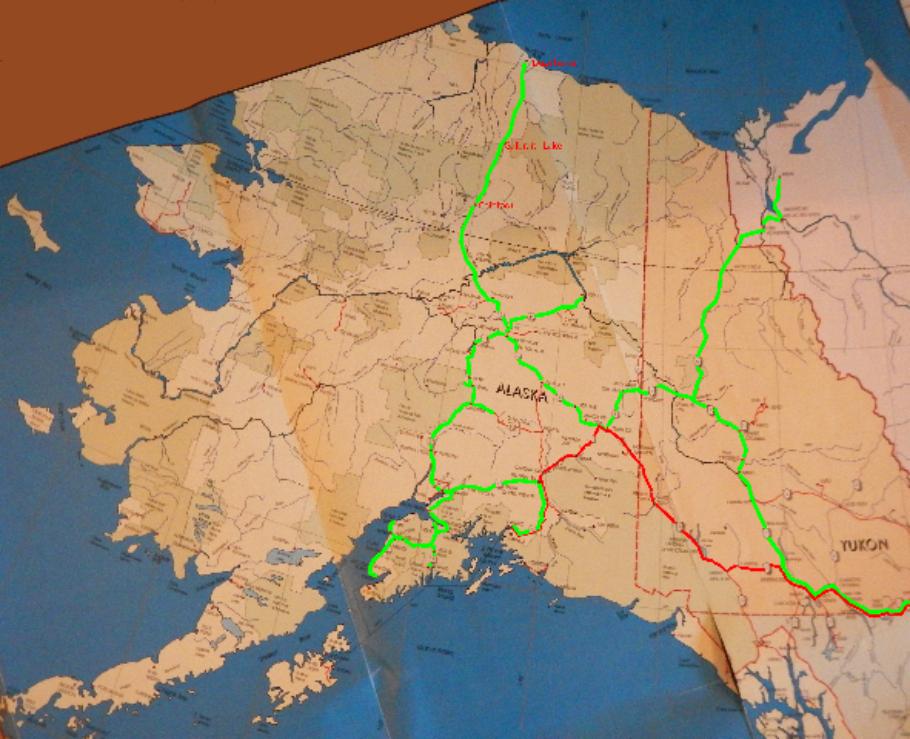 5. August 2013 - Valdez, Alaska:
Today is our third night in Valdez, intermittent rain showers, mist, low clouds. Still quite some experience! Yesterday we went on a 9 hour boat tour to the Meares Glacier, through the Prince William Sound and up Unakwik Inlet, modern catamaran, super scenery, wildlife including orcas, sea otters, Dall's porpoise, puffins, Steller's sealions, harbour seals, bald eagle, time just flew past. The glacier ice even bluer than on a sunny day. Quite amazing. Today spent mostly at the south shore of the Sound, watching masses of pink salmon returning to their spawning grounds, harassed by humans, gulls, kittiwakes, sea otters... we still wait to see bears joining the feast on the beach, they are supposed to be very active as well. But autumn is certainly in the air, most tourism here in Valdez winds down by the middle of August.
24 July 2013 - Hope Alaska:
Settling in Hope for a while, the amazing sunny summer weather is still holding. We are enjoying our days, taking walks, reading, writing, photos, .....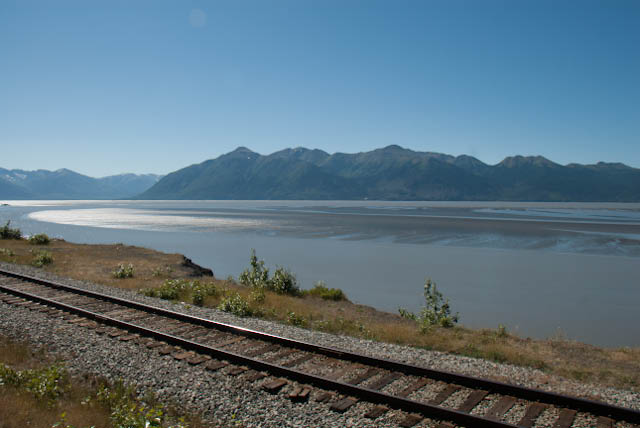 Mudflats and railway line along northern shore of Turnaround Arm of Cook Inlet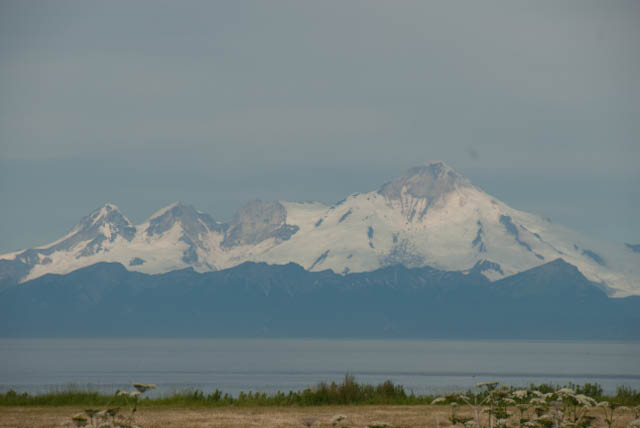 Double glacier - view from west coast of Kenai Peninsula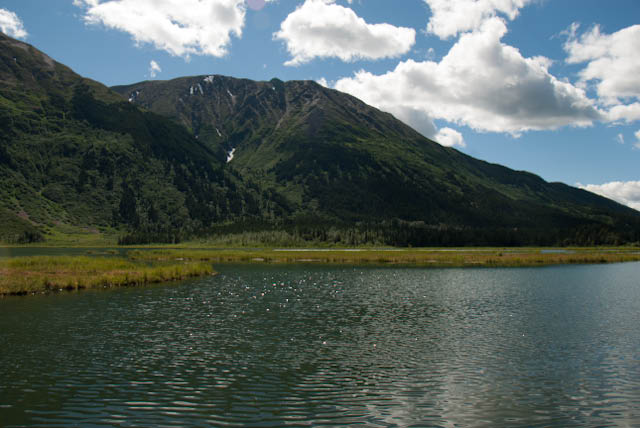 Tern Lake at junction of Sterling and Seward Highway, and we saw Arctic Terns there!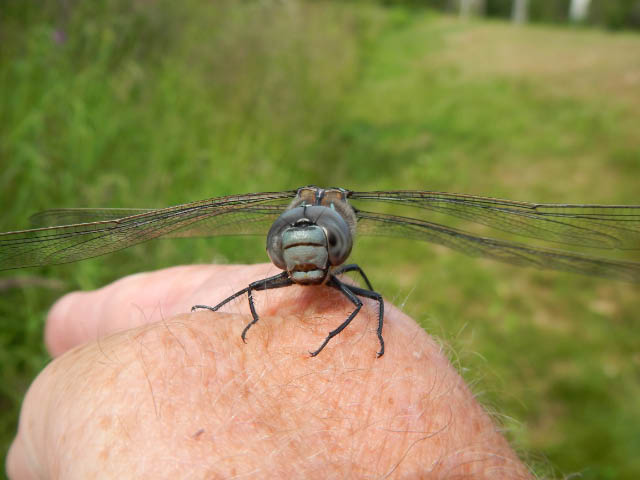 Not only the bears are big here in Alaska, one of the largest dragonflies we have ever seen. Supposedly the abundance of mosquitoes as food has something to do with it.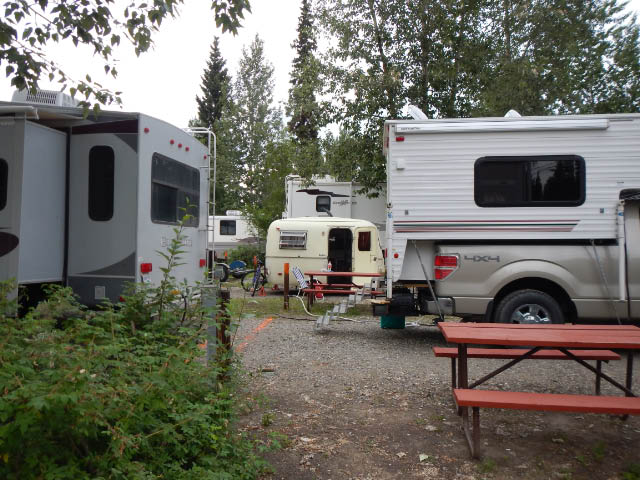 Most of the RVs (recreational vehicles, = camper vans) are huge here too, with the odd exception. (Fairbanks)
22 July 2013 – Hope, Alaska
Have booked ourselves into a small Motel – Alaska Dacha – in Hope, at the end of the road in the north-western corner of Kenai Peninsula. This is just across the Turnaround Arm of the Cook Inlet, just opposite (south) of Anchorage, but 88 miles / 145 km around the Arm by road. This is a small settlement with just below 200 people, it was a gold mining settlement in the late 1800, and was partly destroyed in the earthquake of 1964.
Leaving Fairbanks a week ago we headed South towards Denali National Park, and that – although scenically beautiful – is a real tourist circus. Private cars are restricted in travelling beyond the first 25 km, then everybody has to go on a bus tour, but countless buses now plough the single road into the park. According to a parks publication the wolves are attracted to this single road because there are so many road kills – caused by their own buses! On another sign visitors are warned of the high noise levels caused by numerous tourist charter planes and helicopters flying to Mt. McKinley.
Unfortunately the weather was not so good, rain clouds and fog obscured Mt. McKinley/Denali. We took a detour along the Denali "highway" – the old approach road, rough gravel – and camped at a small site mainly frequented by fishermen, run by the Bureau of Land Management. This department maintains rustic campgrounds scattered all over Alaska, keeps the big RVs out, as there is no running water and electricity hook up for them.
On Thursday we arrived in Anchorage, a short visit to the small local Zoo, then along the Turnaround Arm of the Cook Inlet towards Portage Glacier and the Kenai Peninsula. We witnessed a tidal bore, quite impressive, at low tide the mud flats a completely bare and then the tide rushes in in an almost straight wave until it hits some rocks on the sides, causing great turbulences.
The Kenai Peninsula is advertised as the playground of all Alaskans, and all the tourists in Alaska! Yes, quite true, especially on the weekend, roads full, cars loaded with fishing gear, including the large nets as the salmon season is also in full swing. All campgrounds totally full, every park near the Kenai River and other salmon streams full of parked cars and boat trailers. We cruised along Seward Highway, down to Seward, then Sterling Highway to Soldotna, Kenai and the end of the road in the North on the west side of the peninsula, and surprised to find a huge oil industry there, all off shore oil rigs, storage tanks on the coast, with fertilizer and liquid gas factories. Salmon fishing is ongoing on the ocean, before they can even get into the river mouth. Official sources claim it is sustainable.......
We also cruised along the west coast of Kenai Peninsula down to Homer, mind-blowing scenery, the mountain range with Redoubt Volcano constantly on the horizon. Just ignore all the humans around!
We will stay put here in Hope for about 10 days, weather is gorgeous, sunny, 20-23 degrees. We will use the time to catch up on writing, sort images, and do some walking (and wait for a spare part for our camper and a new video camera).
12. July 2013 - Back in Fairbanks, Alaska:
We are back in Fairbanks, cruising first along the Steese Highway to the East to Circle, small ex-gold-mining settlement on the Yukon River. Had a chat there with the woman running the general store and petrol station, she has been living there for 40 years, was first the teacher before taking over the store. As is common with most Alaskans she also has a loathing with anything and everything to do with governement.
Then turned north onto the famed Dalton Highway ( or ice road) to Prudhoe Bay. The road is in better condition than one reads everywhere, sections even tarred, the dirt stretches quite well maintained, better than the stretch between Loxton and Fraserburg. Compared with the Dempster Highway on the Yukon side it is even more spectacular and breathtaking. Endless forested hills and valleys, called "rollercoaster" by the truckers, then the magnificient Yukon River, entry into the Brooks Range, the trees disappear, taiga, tundra, glacial rivers, lakes, onto the North Slope. Over 700 km of magnificient scenery one way. Unfortunately our first day in Prudhoe Bay was wet, foggy, even endless day is grey.... And still hordes of mosquitoes despite the cold. We wondered how the animals survive their onslaught, we have nets, repellant, a car, a camper! Some new bird species, a few good moose sightings, a solitary musk ox bull, a pale red fox. On the way south again, the weather was more favourable, sun makes such a difference! The mountain valleys now fully revealed.
We will be in Fairbanks until Wednesday, then south towards Denali and Anchorage.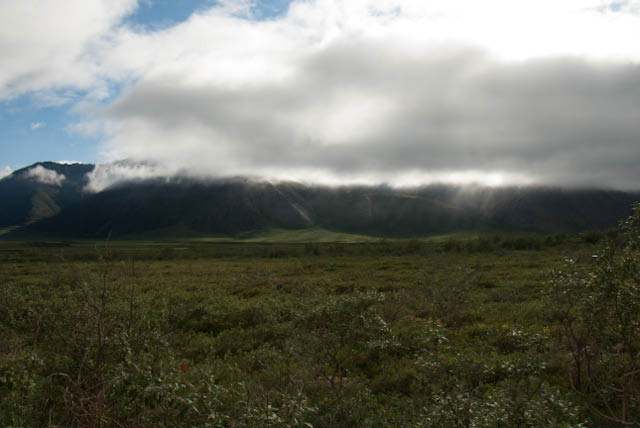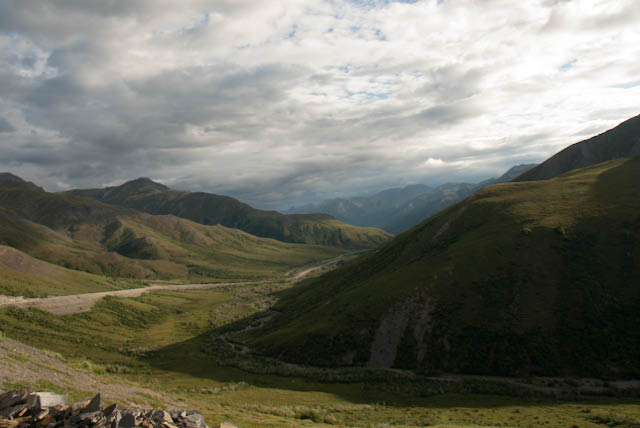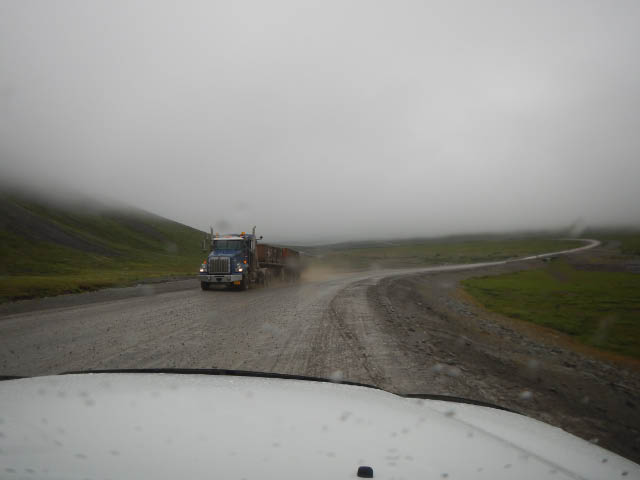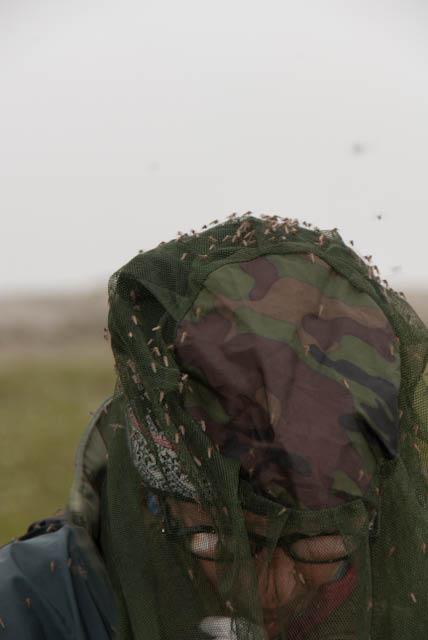 1. July 2013 - Fairbanks, Alaska
We are having a major 'administrative' stop in Fairbanks, a few things need to be sorted out with publisher, photo agent, camera, camper... We found pleasant quarters at Rivers Edge Cottages at the Chena River, near the airport. Pleasant cottages, Wifi works in the cottages every now and then, but in reception area always, power and enough plugs, a clean bed and bath and a coffee machine, all there. We arrived here on Saturday 29. June, and will probably stay until the 4th July.
Before crossing into the USA we spent 3 very pleasant days in Tombstone Territorial Park in Yukon, about 70 km north on the Dempster Highway. The campground is situated next to the North Klondike River, in a lightly wooded stretch, with reasonable privacy between neighbour campers. We were lucky with the weather, a few thunderstorms threatened, but the actual showers were very brief and soon everything was dry again. We spent several hours both days at the end of a trail up to Goldensides Mountain, on a saddle at 1500 m altitude, to observe and photograph picas and hoary marmots. We got short views of both, heard their whistles, the hoary marmots more at ease then the pica, of which we saw only a few glimpses.
We have had a few moose sightings as well: a young cow near 'Two Moose Lake' in the North of Tombstone Territorial Park, very relaxed feeding at the edge of a small pond, a fast glimpse of cow and calf on the road near the airport of Dawson City, and another cow on the Alaska Highway north of Tok.
The ferry over the Yukon river at Dawson City operates 24 hours, and is a free service. The river here is very impressive, comes to mind 'the green greasy Limpopo', here the 'mocca muddy Yukon', no wonder they did not build a bridge, the last bridge in Canada crosses the Yukon at Carmacks, the only bridge over the same river in Alaska is north of Fairbanks, on the road to the Arctic Circle and Brooks Range....
Entering the US via the 'Top of the world highway' is scenically worthwhile, the road partly tar and partly gravel and partly potholes... meanders on the ridges of hills and mountains. The border post is small, the stamp in your passport huge: a half page Caribou, the official friendly. 120 km south of Chicken we join the Alaska Highway again, through Tok to Delta Junction. Latter is a farming community, we did not see any fields of crop, but a few tractors and harrows on the road, a few cattle near 'town'. At Delta Junction the Alaska Highway ends officially and merges with the Richardson Highway, this follows the route of the first goldrush trail from Seward on the coast to Fairbanks. There is still a lot of gold mining going on in Alaska, around Chicken in the whole of the Fourty-mile River district, north of Delta Junction and near Fairbanks. A lot of small miners, weekend miners with a minimal outfit of truck, camper, ATV and small trailer with equipment.
On Saturday smoke haze was obscuring the countryside the whole stretch from Tok to Fairbanks, caused by numerous forest fires following lightening strikes and unusual warm summer temperatures.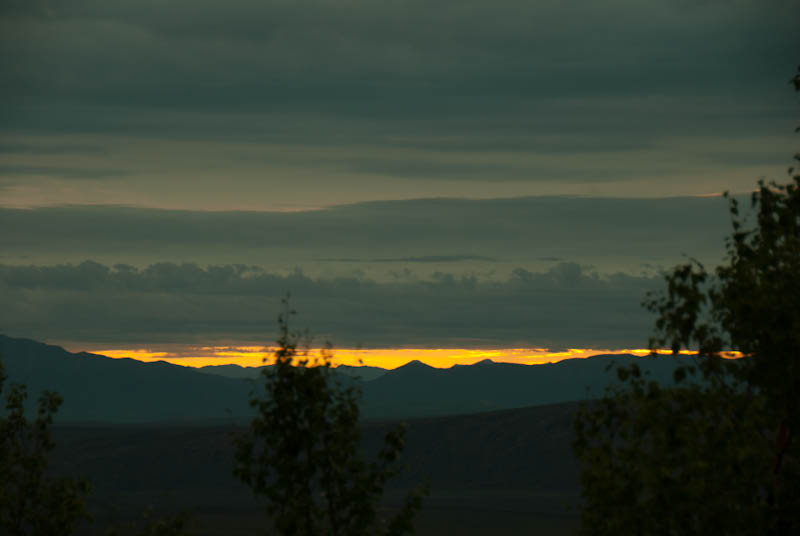 28. June 2013 - Chicken, Alaska
Truly, this place is called Chicken! The story goes: goldminers in the late 18 hundreds shot a lot of ptarmigan around here for food, could not agree on how to spell ptarmigan and decided to call the place Chicken!!
We left Tombstone Territorial Park and the Dempster Highway this morning, repleted fuel and food stores in Dawson City, then crossed the muddy wide Yukon River on a ferry and travelled the 'Top of the World Highway' to the US/Canadian border. A very scenic drive along mountain ridges always around about 1000 m above sea level, partly gravel partly tarred road, not much traffic. One hoary marmot crossing the road. Quiet border post - and here we are in Alaska!
Chicken lives off his gold mining history and still is a mining centre, little camps scattered all around with tough looking, tatooed guys (and gals) coming to the only store for ice cubes. The RV park is 50% occupied by camper vans of miners, and a few tourists, not too bad yet. The weather stays summery, although cloudy today and a few odd drops, pleasant to sit out, mosquitoes only half bad.
Will update map soon.
This was taken at midnight, view of the Brooks Range from the south.
22 June 2013: Inuvik
We reached the end of the Dempster Highway two days ago, on the 20th June, we crossed the Arctic Circle on the 18th, well ahead of our deadline. The long days - no nights - are quite amazing, our body clock is confused. We stay up easily until midnight, and then don't wake up as early as usual. And the world even here is not flat enough to actually see the sun for 24 hours, around 2 am it disappeared on the previous night from our viewpoint, although the tips of all the trees were still bathed in orange light.
22 June 2013 - continued:
The Dempster Highway is a very well maintained gravel road, on a gravel bed very high above the surrounding muskeg, or tundra, or tussock grass plain. We stopped in a Yukon territorial campground just north of the Arctic Circle for 2 nights, and did a good walk onto a nearby hill, up there a breeze blew all the mosquitoes away! Look at this view:
On the Northwest Territorial stretch of the Dempster Highway we needed to use two seperate ferries, one across the Peel River and the second bigger one across the McKenzie River, all working very well, free, from 9 am to 12h30 am! The MacKenzie River is wide and powerful: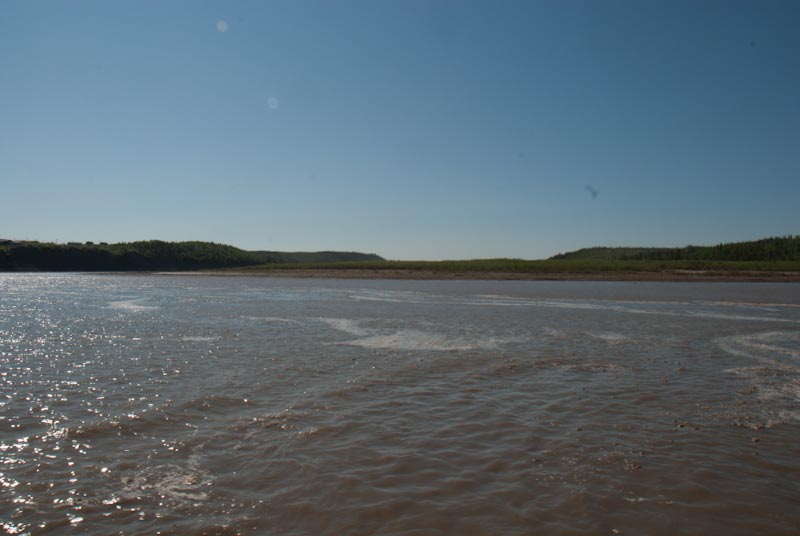 And here the proof - we are standing on the Arctic Circle: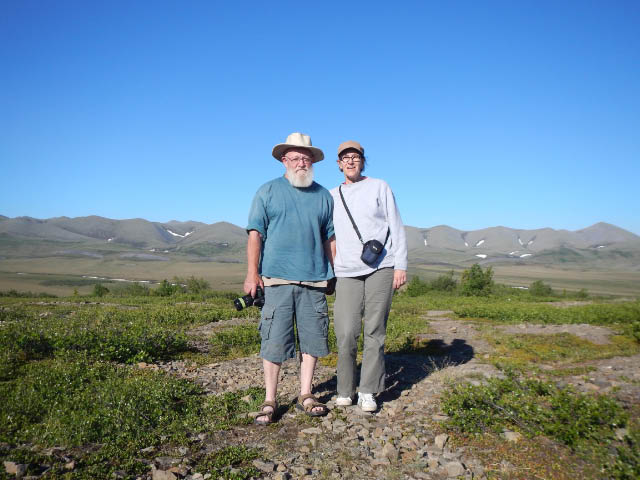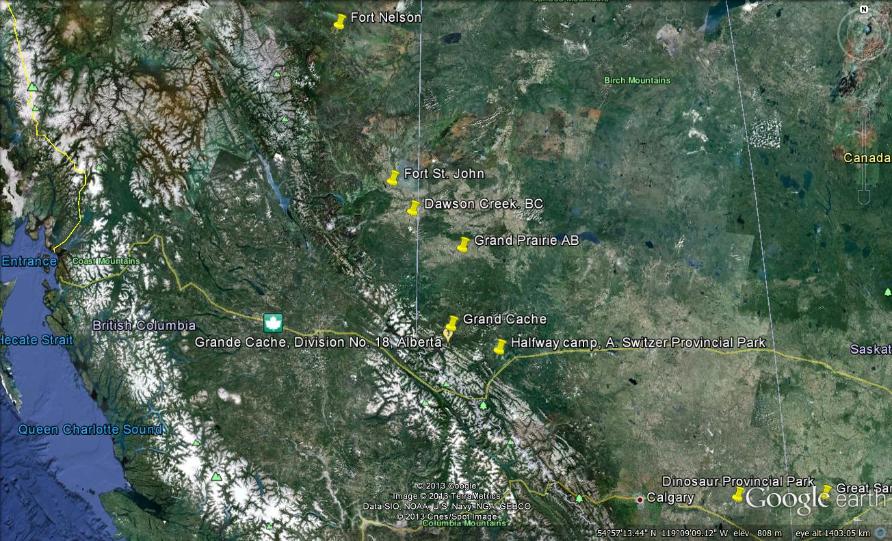 Fort Nelson, 14. June 2013:
We are trying to cover a lot of distance before the solstice. Once we picked up our passports in Calgary, we just travelled.... following the Cowboy Trail to Rocky Mountain House, then Yellowhead Highway 16 to Hinton, AB 40 to a lovely campsite at Halfway Camp in the A. Switzer Provincial Park. Several white-tailed deer shared our campsite. Then on the AB 40 to Grand Cache, past a horrific open coal mine, to Grand Prairie, into BC Dawson Creek, Fort St. John, onto the Alaska Highway. On and off quite heavy rain showers, lots of lorries and gas and mining equipment, quite mind-blowing. Lots of logging, digging, mud, pipe lines, gas plants.... Ended today in Fort Nelson. Trying to push for Whitehorse tomorrow.
11. June 2013:
While waiting for the US Consulate in Calgary to issue our visa, we explore the South West of Alberta and South East of Saskatchewan. Erosion in Dinosaur Provincial Park along the Red Deer River, a massive thunderstorm in Tillebrook Provincial Park, an angry red squirrel in the Battle Creek Camp site in Cypress Hills Provincial Park as only neighbour. We push on into Saskatchewan to enjoy black-tailed prairie dogs and reintroduced bison in the Grasslands National Park, and today we had our first sighting of Thirteen-lined ground squirrel in the Great Sand Hills, we will spend a day there again tomorrow, on thursday plan to pick up our passports in Calgary and finally head north.